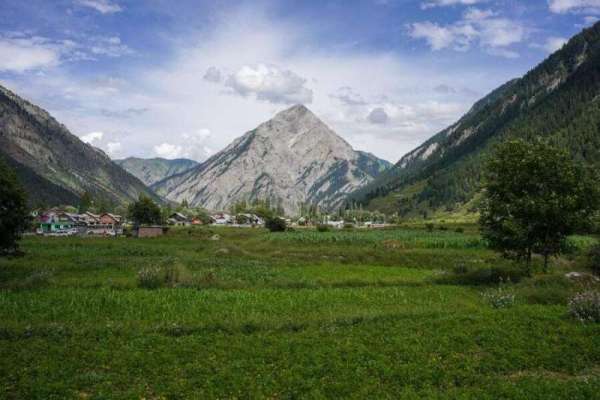 Best place to Visit Jammu Kashmir
One feels that calling Jammu & Kashmir tourism a paradise is the highest compliment you can give to the region. However, it has a certain ambiguity that doesn't do this region of the country credit. The beauty of Jammu and Kashmir, a well-known tourist destination, is found not only in its environment but also in its culture and people.
It is made up of everything that makes up its scenery, including its apple orchards, gondolas, boathouses, crystal-clear lakes, alpine meadows, and amber-hued trees in the fall. There is a timelessness to its beauty as if nature decided to stretch her imagination to the fullest to create it. In this blog, we bring you the 12 top tourist places that show you the timeless beauty of Jammu & Kashmir. The best place to visit in Kashmir are:
Yasmurg
A hill station called Yusmarg is located in Kashmir Valley's western region. The Ahmadiyya Muslim sect regards it as the home of Jesus at one time. You will never see more magnificent scenery than this one. There are several opportunities to go sightseeing and engage in recreational pursuits like horseback riding and trekking. The main attractions in Yasmurg for tourists are Yusmarg Pakherpora Shrine, Charar-e-Sharif, NilnagSang-e-Safed, and Doodhganga lake. They can enjoy fresh Trout fishing, horse riding, and tracking.
Best Time to Visit: May to September for Summers and November to February for winters.
Best hotel near yasmurg:
The JKTDC accommodations will be the main places to eat out. For shorter journeys, one may want to bring meals.
Easy way to reach:
By Air: Yusmarg is 47 km from the nearest airbase, Srinagar airport, and can be reached there in about 2 hours.
By Rail: The closest station to Yusmarg is Jammu-Tavi.
By Road: Some many buses and taxis travel from Srinagar to Yusmarg.
Checkout Our Visit Packages
Gulmarg
With snow-covered mountains, lush vegetation, lakes, pine and fir woods, and a variety of flowers, Gulmarg has it all. In a valley in the Pir Panjal Range, it is tucked away. Its name translates to "the meadows of flowers," as daisies are widely used to beautify the meadows there. The highest green golf club in the world, the highest cable car project and the best skiing in Asia are all found in Gulmarg. The main tourist places are St. Mary's Church, Baba Reshi shrine, and Shiva Temple/ Maharani Temple.
Popular Activities in Gulmarg
Take a round of golf at the highest course in the world.
Take a trip with the Gondola cable car.
Ski at Shark Fin, the top ski area in Gulmarg.
Sonmarg
One of the top tourist destinations in Jammu and Kashmir for sightseeing and adventure is Sonmarg, which translates to "meadow of gold." A glacier, woodlands, and snow-capped mountains define its landscape.
From here, you can travel to any of Kashmir's three Great Lakes: Kishansar, Vishansar, or Gadsar. Adventure sports like camping and trout fishing are very popular. The walk to Amarnath Cave, a significant Hindu pilgrimage site, begins at Sonmarg as well.
Best Time to tour: May to October
Pahalgam
Pahalgam is a must-see for any traveler to Jammu and Kashmir's top ten destinations. It is situated on the shores of the River Lidder in the Anantnag district.
With its meadows, woodlands, and clean surroundings, it is a visual pleasure. Pahalgam is the ideal spot in Kashmir for a day trip because of the Aru Valley, Betab Valley, and Baisaran, among other places. Famous places to visit are the sheikhpora, Beitab valley, and Aru valley.
Best Time to visit: October to June
Top restaurants: login, KP road Chandanwani, and Troutbeat, main market Pahalgam India.
Top Food: seafood, Kaanti, Matschgand.
Verinag
The Verinag Spring is a must-see sight in the town of Verinag, which is located in the Anantnag area. Jahangir constructed the stone basin and arcade around it, while Shah Jahan constructed the lovely garden adjacent to it. The spring serves as the River Jhelum's principal source. Right in front of this spring is a Mughal Garden.
Srinagar
This list includes Srinagar since it is a top honeymoon destination as well as one of Jammu and Kashmir's most popular tourist attractions.
Srinagar is known as the "Land of Gardens and Lakes" because of the abundance of Mughal Gardens, historical, religious, and Dal & Nageen Lakes. The Dal Lake floating vegetable market is one of the many surprises you'll encounter. In Srinagar, there are also the biggest tulip gardens in Asia.
Attractive places: Mughal gardens, Tulip gardens, Hari Parbat fort, Hazratbal shrine, and Parimahal.
Best Time to visit: April to October