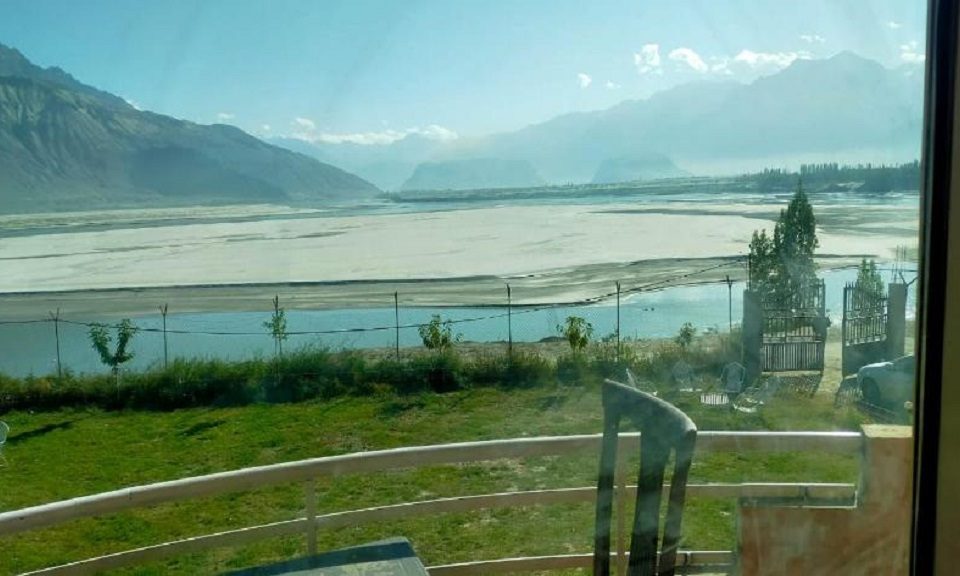 Eat and Read hotel is conveniently at Gamba Skardu Hoto which is 11.2 km from the center of Skardu. Eat and read hotel offers accommodation with a garden, a terrace, free parking, and a restaurant. Eat and Read hotel has a mesmerizing view of the sun rising in the morning with mountains and the Indus River, which flows in front of the hotel. The hotel is around 10 KM from Tandal, 11 KM from Ranga, and 14 KM from Ponedas.
All rooms in Eat and Read hotel are equipped with a flat-screen TV. With attached washroom with latest sentry fittings and hot water. The rooms of Eat and Read hotel also have a river view. The accommodation has a facility of a 24-hour front desk, airport shuttle service, room service, and free Wi-Fi. Eat and Read hotel features press delivery so one can always read fresh magazines and newspapers; that's why the property is known as Eat and Read hotel. The staff at the places are very friendly and always proactive for the comfort of their clients. The room service is excellent. One can have a wonderful view even from inside and a separate balcony with each room size is reasonable. Free parking is available.
Eat and Read Hotel Surroundings
Polo Ground = 14 KM
City Park = 16 KM
Snow land Treks Tours and Expedition = 3 miles
Buddhist Trail = 2 miles
Skardu Airport = 2 minutes' drive
Sat Para Lake = 4.7 miles
Checkout Our Visit Packages:
Facilities at Eat and Read Hotel
Fresh newspapers and magazines
View of the beautiful lake in front of the property
Courteous and cooperative staff
Friendly and conscious Owner
Nonsmoking rooms
Heating Arrangement
Iron available
Parking available
Airport pick up/Airport drop off
WI-FIFI available
Views from Hotel Rooms
Extremely beautiful views from the rooms: A unique feature and experience. Not exists in any other hotel in Skardu.
We can view the mountains in front of the hotel from the rooms.
Awesome Lake views in front of the hotel, from rooms.
Mesmerizing Sunrise view, from the rooms, outstanding garden with beautiful flowers.
Room types
Deluxe Twin Room: For 2 guests, features 2 single beds, a comfortable sofa, flat screen TV, and balcony, private washroom
Deluxe double room: For 3 guests, features 1 double bed, balcony, and sofa, flat screen TV, attached bathroom
Price Range for Room: PKR 7,954 – PKR 22,316 (Based on Average Rates for a Standard Room)
Room Amenities at Eat and Read Hotel
Neat and Clean Bed Sheets
Garden view from the room
Attached Wash Rooms
Breakfast in Room
Ironing board
Heating arrangement
Wooden Floors
Sofas / Chairs to relax
Balcony with every room for sightseeing
Wash Room Features
Accessibilities
Wheelchair accessible for disabled visitors
Lift is not accessible
Pets
Pets are not allowed in the hotel.
Children's Policies
No age restriction for Children
They consider children aged 15 years and above adults at the hotel.
Meals in the Hotel
Brunch/Lunch/Dinner
High tea /Breakfast: Bread, Eggs, Tea
Kids' meals
A la carte menu style
Payment Options
Payment is taken only in cash.
Credit / Debit cards are not accepted.
Arrival and Departure
Check-in from 11:00 AM to 2:00 PM Noon
Check out from 8:00-11:00 AM
Contact Details
Airport Road Hoto, Gamba Skardu, 16200. Pakistan.
PH No: 0311 1521114, 0335 4414028
Skardu
Skardu is one of the most popular and famous hill stations in Pakistan. The presence of lush green trees with fruits, panoramic mountain views, freshwater lakes, amazing waterfalls, and fairy meadows makes the whole area of Skardu an epitome of eye-catching natural beauty. It is the only region on earth where one can get snow-covered mountains, rocks, hiking tracks, waterfalls, a cold desert, meadows, organic villages, and destinations with full adventures at a single point. The all-natural mysteries can be found within the range of 200 kilometers. Skardu, the capital of Gilgit Baltistan, is 2438 meters above sea level in the great peaks of the Karakorum. The inhabitants of Skardu are hospitable and courteous to the core.
The fascination of Skardu for Tourists
There are too many beautiful places in Skardu to fascinate visitors. Natural waterfalls, freshwater lakes, and mighty mountains seek the attention of visitors. Some of the famous places of Skardu are:
Deosai National Park
Shigar Valley
Cold Desert
Renowned Polo Ground
Sheosar Lake
Lulusar Lake
K2 Base Camp
Kachura Lake
Weather of Skardu
In summer-from April to October- the weather of Skardu is pleasant as compared to other parts of the country. The temperature during these months remains between 8-27-degree seniti grade. From October to February tourists face scary cold weather because the temperature falls below -10 degrees. I advise tourists to visit Skardu from April to October.