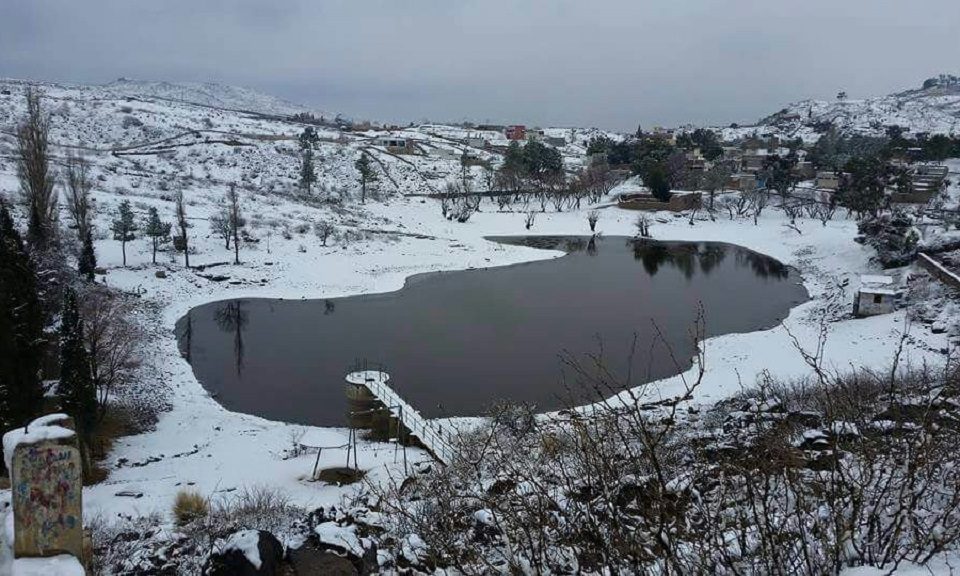 In District Dera Ghazi Khan of South Punjab, Fort Munro holds a distinctive status. It is a hill station; 6,400 feet above sea level. It was discovered by a British official, Munro. Who then built the Governor House and Sub Camp here? The way leading toward Fort Munro is considered to be an open-air museum in Pakistan. People of South Punjab rush towards Fort Munro because of the scorching heat and fierce Sun. Fort Munro is truly called Murree of South Punjab. Another name for Fort Munro is "Taman Leghari".
It has multiple tourist spots like Anari Hills, Pyala (Bowl), Demis Lake, and Fort Munro Bazar. Here, on one side lush green fields, on the other side elegant Mountains of the Kohe Suleman range. Gigantic Sindh river flows on the one hand and Rood Kohis of Koh e Suleman enhances the beauty on the other. It is the backbone of tourism in South Punjab. It is no less than beautiful, charming, and natural scenery from any famous hill station in Pakistan. Fort Munro is quite peaceful and secure. Unfortunately, Fort Munro is devoid of enough facilities; otherwise, it could be turned into the best summer tourist spot in Pakistan.
Checkout Our Visit Packages
The weather at Fort Munro
It remains 25-28-degree Seniti grade even during the ravish summers of South Punjab. During winters, the temperature is 8 C. Snowfall occurs during winters.
How it can be accessed?
It is easy to reach here. Fort Munro is 180 km away from Multan. Its Distance from Dera Ghazi Khan is 80 km. There are so many routes, but the easiest and most beautiful one is from Multan or Rajin Pur to Dera Ghazi Khan, Sakhi Sarwar, and then Fort Munro. Tourists coming from Quetta, Zhob should adopt the route of Lorelai to Mekhtar or Rakhni and then Dera Ghazi Khan. From the bus station of Dera Ghazi Khan; vegans, coasters, and Lorelai-going buses take the tourists to Fort Munro. From Karachi, it is too easy to reach Fort Munro via the N-70 National Highway.
Fort Munro tour expensive or affordable?
Exploration of Fort Munro is quite inexpensive. Transport fares are average. Edibles are affordable at affordable prices. It is a one-day tour, so there is no need for a night stay and gaining any accommodation points. The local community is lovely and hospitable.
Important Spots on the Way to Fort Munro
Ghazi Ghat Indus River
If one is coming from Multan, he will cross the mighty Sindh River through a bridge, Ghazi Ghat. From this bridge, the view of the Indus is enchanting. Boats, trees, and restless waves of the river generate melodious music and make the view ravishing.
Sakhi Sarwar Shrine
25 km away from Dera Ghazi Khan, a town Sakhi Sarwar is named after a renowned 12th century Sufi Saint Syed Ahmad Sultan aka Sakhi Sarwar. His lineage draws from Imam Musa Kazim (R.A). The shrine was built in the 13th century. Mughul kings continued its expansion, renovation, and installation of artwork. It is the reflection of the Mughul architecture. Langar is cooked for the pilgrims in Huge Daigs.
Clay Colored Mountains of Suleman Range
Just next to Sakhi Sarwar, a range of beautiful clay-colored dry mountains stars. This view is so attractive and outstanding that there are no words to describe it. As the height starts, mountains full of greenery are seen. They just steal the hearts of visitors.
Steal Bridge
Just before Fort Munro, the world's second-largest steel bridge has been constructed, with the aid of Japan. It covers 33 kilometers long mountain area of amazing N-70 National Highway. The purpose to construct this bridge was the connection of Balochistan with Punjab province, ease of traveling and distance reduction. Due to Steal Bridge, the route has become very short, exceptionally beautiful, and pleasant.
Fort Munro
Dada Koh: Epitome of Suleman Range
Another name of Fort Munro is Dada Koh, i.e; Grand Father of Mountains. It is a mountain range of Koh e Suleman. The Suleman Range starts from Fort Munro and spreads up to Russia. Mountains of ancient ages known as Dada Koh exist here. The beautiful zig-zagging road amidst the mountains, lush green valleys around hills, from the scorching heat of a few miles past to a pleasantly cool environment; vanishes all the anxiety and fatigue. Lost in these eye-catching scenes, toward a destination, one is unaware of when he arrived at Fort Munro.
Anari Top, Fort Munro
It is a beautifully landscaped hilltop at Fort Munro. This top is covered with clouds and capped with snow. A unique combination of sun and shades exists here. An orchard hosting multiple and diverse species of plants too is at Anari's top. Standing at this top, one feels as if he is in the skies and heavens. Actually, because of this place, Fort Munro is called Murree of South Punjab.
Payala (Bowl), Fort Munro 
Water from the hills falls in the shape of drops. Over decades, or perhaps centuries, drop-by-drop water has formed the shape of Payala (Bowl). Tourists visit this place enthusiastically and enjoy it a lot. The nearby grassy landscape is an addition to the beauty of Payala.
Dhemis Lake, Fort Munro              
The most beautiful place of Fort Munro is Dhemis Lake. Tareemon and Laal Khan Lakes too exist in their vicinity. This Lake is the biggest one. On the map, the lake is spread like a human kidney. This Lake shrinks during winter. However, during summers and rainy seasons; the extraction and flow of the lake are impressive.
Rood Kohis, Fort Munro
Streams passing through the mountains of Fort Munro are called here Rood Kohis. These streams, with their freshwater, turn Fort Munro into a paradise. They are famous for their flooding and fast flow. During the Rainy seas, the flow of their water is so fast that it sweeps out and takes everything with it. A hundred thousand Cusic water of these roods Kohis goes wasted every year because of ill planning and mismanagement. Someone has utilized efficiently this precious water. We should construct here small dams.
Fort Munro Bazar
The market of Fort Munro opens only during the summer. Clay-made shops in this bazaar remain closed during winter.