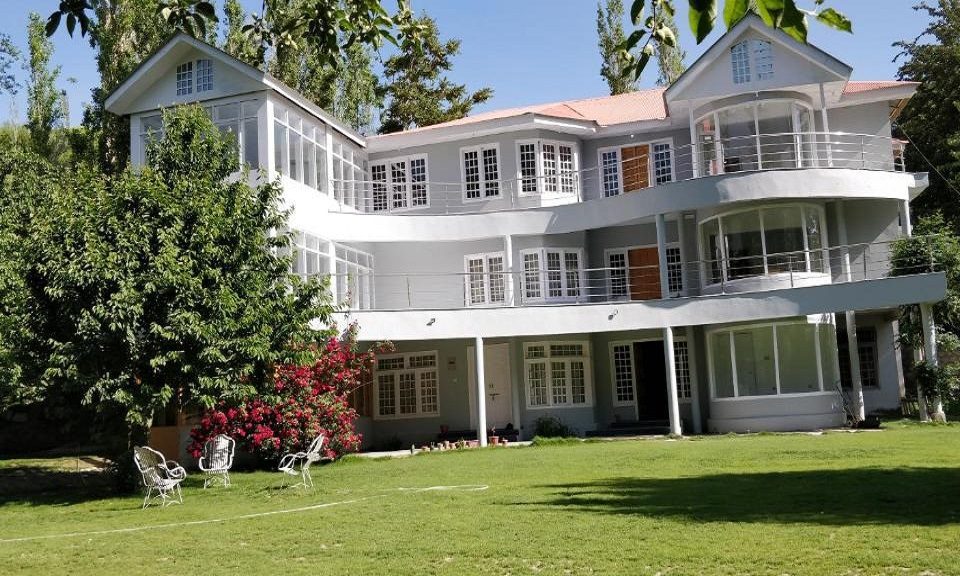 During peak season, most hotels and resorts remain packed and house full of tourists. Therefore, reasonable accommodation is no less than a blessing in Skardu. Hotel Reego is one of the best resorts in Skardu. From excellent rooms to remarkable dining and up-to-the-mark amenities; Hotel Reego is the best place to stay with family and friends. Overall, Hotel Reego is the best economical resort in Skardu.
Location of Hotel Reego  
Hotel Reego is located on Alamdar road Kargrong, Skardu. It is 0.6 miles away from the center of Skardu city. The distance of Skardu International Airport from the Hotel is just a 7 minute drive.
Checkout Our Visit Packages:
Important Spots nearby the Hotel
Italian K2 Museum: 1-minute drive
Skardu Fort: 12 minutes drive
Satpara Lake: 3.8 miles away
Dewan e Khas Restaurant: 0.6 miles
Other noteworthy restaurants: within 5 miles
Skardu: Dream Land of Pakistan
Scenic lakes, exceptional mountain ranges, diverse wildlife, and a pleasant forest breeze truly turn Skardu into the Dream Land of Pakistan. Surrounded by splendid trees of apples, cherries, apricot, peaches, and pears; Skardu is a place aspiration of every tourist. As it hosts glaciers, gigantic mountains, picturesque meadows, striking waterfalls, and the 4 highest peaks of 14 Eight Thousand; Skardu is a great attraction to climbers, photography lovers, hikers, adventurists, nature lovers, and every sort of tourist. Besides, forts, museums, archaeological sites, Jashn e Nao Roz, and Deosai National Park fascinate tourists from around the globe.
Why Tourists should Prefer Skardu?
Skardu has a diverse range of tourist attractions, such as
Satpara Lake
Sheosar Lake
K-2 base camp: trekking site
Burzil Pass: trekking site
Polo Festival
Jashn e Naoroz: Festival
Deosai National Park
Manthokha Waterfall
Shigar Valley
Fairy Meadows
Climate of Skardu
From April to October, the temperature is usually between 8 degrees seniti grade to 27 degrees seniti grade. Skardu is frozen from October to February because the temperature drops to -10 degrees seniti grade. So, the best months to explore Skardu are April to October.
Amenities at Hotel Reego Skardu
Surrounded by beautiful mountains, enchanting trees, and plentiful greenery, Hotel Reego provides a diverse range of facilities to its visitors.
24 hours front desk and security
Free car parking
Laundry Services
Beautiful garden with easy chairs to relax
Terrace for sightseeing
Barbe Que Grill(s)
Smoking-free hotel
No elevators
Free high-speed WiFi
Ticket, and transport information for Tours
Arrangement of Vehicle by the Hotel
Complimentary Breakfast (free)
Shuttle service to Airport
Behavior of Staff
The entire staff of the hotel, led by Mr. Irfan is extremely polite and hospitable to the core. They win the hearts of visitors through tremendous service delivery and swift response. Mr. Irfan ensures maximum facilitation for every visitor. Staff members go beyond the normal routine to meet the demands and solve the problems of customers.
 Types of Rooms in Hotel Reego
Standard Quadruple Room, Multiple Beds. Maximum 4 people
Panoramic Double Room, 1 King Bed, Mountain View. Maximum 3 people
Deluxe Double Room, 1 King Bed, Non-Smoking. Maximum 2 People
Economy Double Room, 1 Queen Bed. Maximum 3 People
Price Range of Rooms: PKR 9,085- PKR 10,636
Features of the Rooms in Hotel Reego
There are 13 rooms in Hotel Reego. Which include the following services:
In-room Dinning (limited hours)
Rollaway Beds (Extra charges)
Housekeeping daily
Free Newspapers
Wheelchairs available
Allergy-free rooms
Refrigerator/ Microwave Oven
Writing Table
Flat screen TV and Cabal Network
Coffee / Tea Maker
Blackout Curtains
Attach washrooms with warm water
Dining Facilities at Hotel Reego
Free Complimentary Breakfast: from 8:00 to 10:00 AM daily
Lunch/ Brunch/ Dinner
BBQ can be arranged
There is a restaurant in the Hotel
A diverse range of meals and dishes are provided here. Food is delicious and worth remembering. Anything can be prepared for visitors' demand. Outdoor dinner too is available. The natural scenery view from the dining hall is amazing. One can sit here for hours, lost in the scenic views. Dining at Hotel Reego is not expensive: it is economical and affordable.
Check-In and check out
Check-in at hotel Reego starts at Noon.
Government-issued National Identity Card having the photo and a credit/debit card or cash deposit, required at Check-in.
Guests are received by Front Desk Staff on arrival.
By 12:30 PM; visitors can check out.
Payment Options
Payment can be made through visa and Master Debit / Credit cards.
Children's Policy
Children are allowed at Hotel Reego
Rollaway and extra beds will be provided at extra charges.
Pet Rules
No restriction on Pets' entry
Pets' stay is free
Fees
PKR 2,000 deposit per night
Extra-person charges may apply
Fees and other charges vary according to accommodation and room type.
Extra charges and deposits might be tax excluded.
Note: The foremost policy of Hotel Reego is to entertain and cater to the demands of its visitors. However, the special demands of the customers are conditioned by the availability at the time of Check-In. No guarantee to fulfill Special requests and extra charges for special requests will be taken.