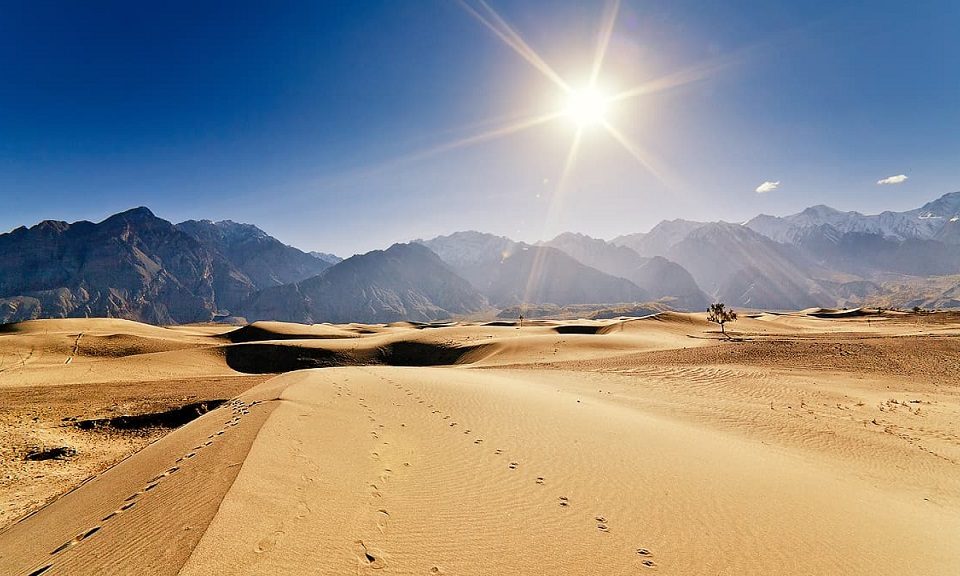 In the regional tongue, the Katpana desert is known as Biana Naqpo and Katpana Biana. This is among Pakistan's Northern Areas' most stunning tourist destinations. The region of Skardu is referred to as the Cold Desert. It is a wonderful location to visit because of its captivatingly chilly nights and gorgeous sandy landscape.
Because of severe gusts, the dunes are constantly moving. People have a very noteworthy and weird fascination with this location because of its unusual weather and elevation. Katpana Cold Desert is surrounded by the stunning Karakoram and Himalayan mountain ranges. The desert is home to stretches of huge dunes that occasionally get covered with snow in the winter.
Katpana Desert Location
A high-altitude desert in Skardu in Gilgit-Baltistan, Pakistan, is referred to as the Cold Desert and goes by the names Katpana Desert and Biama Nakpo. The Katpana desert is located primarily in Shigar Valley and Skardu, though it also covers Khaplu and stretches to Nubra in Indian-occupied Kashmir.
Katpana desert Speciality
With a height of 2226 meters above sea level, the Katpana cold desert is renowned for being the tallest desert in the world. The Katpana Desert contains sizable sand dunes, which is an amazing sight. The topography is incredibly beautiful as you travel from West to North Pakistan, with the hues of the lush plantations, enormous rocky plains, mountains, flowing, curving streams, cloudy skies and waterfalls, and attractive sceneries.
All of this contributes to the place being so immensely dynamic and lively. Yes, this combination is uncommon, although it can occur in a desert or on a mountaintop. The Katpana Desert is considered a wonder of the world because the sand grains there are white rather than yellow. These grains resemble pearls when the sun falls on them. Once someone has seen this desert, they are enthralled by its majesty and want to return time and time.
Must Visit:
It is a very charming tourist place and generates revenue when people come to visit this place so there are also chances to increase the economy of Pakistan and the CPEC route also lies there to expand the tourism interest. How sand dunes continue to move as a result of severe winds is a fascinating fact.
You should be aware that because of the unusual weather and high altitude, this location holds a strong and peculiar fascination for individuals. At an altitude of 303 metres, it is a fascinating location encircled by bushes, suburbs, and a range of dark-gray Rocky Mountains. You suddenly realize the entire situation is both unusual and miraculous to witness.
It is the coldest area because of the high altitude and survival is difficult, especially in winter. As it is a desert, there is also a deficiency of water and cuisine prices are out of range. This area is further modified by making Resorts, mountains, and beautiful valleys and producing food for cold climate people like winter wheat in America.
Surroundings
With a 303-meter altitude, the Katpana Desert is a significant location. Bushes, Rocky Mountains that are a dark greyish color, and suburbs surround it. The Indus River's sparkling pure water, which flows across the desert, draws attention to the variety of the surrounding terrain. Visitors are drawn in by the snow-covered sand dunes that are shifting rapidly during the winter. Rather than a landscape, it resembles a moonscape.
Best way to reach there
Skardu is accessible by two routes. The airfield there is currently operational, so you can travel by air or by car. I advise taking the road trip if you want to truly take in this location's splendor and the spectacular views along the way.
Climate
In the summer, temperatures in the cold desert range from 8°C to 24°C at their highest, while the wintertime lows can reach -17°C.
Best time to visit Katpana Desert
During the winter, you can see how the dunes are covered in a fine coating of pearly white snow—and it's a stunning picture. Because of the area's high altitude and frequent exceptionally low winter temperatures as low as 24 °C, it is advised that you arrange your vacation by the weather forecast to ensure a comfortable experience. You might wish to visit this spot more than once during your lifetime to admire the always-changing vistas because the high winds in the area frequently cause the dunes to move.
Glamp Pakistan Katpana Skardu
It is situated 2.4 kilometers from the center of Skardu's Katpana Desert.
The Katpana Desert Glamp in Pakistan offers luxury camping facilities. Pakistan offers two different lodgings, the first of which is an all-weather tent that gives you sweeping views of the Katpana Desert from the comfort of your bed. The bathroom is in a separate building that is powered by solar panels and provides hot water for your pleasure.
A wooden house, which is built from local wood and has big windows so you can admire the marvels of nature outside, is a more opulent option. The hut has an adjoining bathroom as well, and its interior has been adornedwith locally obtained pebbles. A wooden house, which is built from small wood and has big windows so you can admire the marvels of nature outside. The hut also has a bathroom that is connected to it, and the inside of that bathroom is ornamented with pebbles that were taken from the Indus River.
Festival
Over the years, the Katpana Desert Jeep Race has grown to be the second-largest racing competition, behind the Cholistan Desert Jeep Rally.
Katpana Lake
Katpana Lake is 4km far from central Skardu's city. It is one of Pakistan's most exquisite lakes. The entrance to the lake is in Katpana town. With so many types of trees present along the lake's coast, the view is made even more stunning.