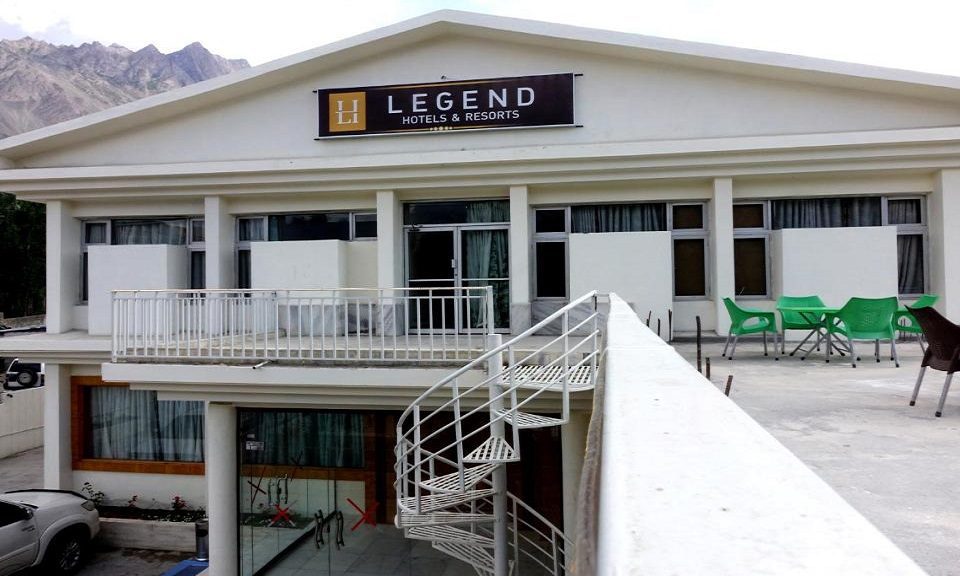 The hotel's grace and simplicity enhance the area's natural beauty while providing luxury and convenience. The satisfaction of our customers forms the basis of our service. By offering a variety of room alternatives, we make sure that our visitors are comfortable and delighted.
With all the conveniences and beautiful views, we offer executive suites, executive family suites, standard king rooms, and standard twin rooms. In addition to dining, free personal parking, a shared lounge, and a terrace, Legend Hotel Skardu offers lodging. Festivals of Skardu portray its glorious cultural and traditional values. Various beautiful lakes situated in Skardu do not let the tourists visit another place. Every year, thousands of tourists visit this heaven of beauty, natural scenery, adventure, and serenity.
Must Visit:
There is room service available and a 24-hour front desk at this 3-star hotel. There are family rooms in the hotel. A flat-screen TV with tv stations is provided in each hotel unit. A private bathroom, slippers, and bed linens are provided in each guest room. The Legend Hotel Skardu offers a breakfast buffet for its visitors.
Over 100 million domestic passengers use the chain of family hotels operated by Legend Hotels & Resorts each year. With four properties in four distinct locations, including Islamabad, Chitral, Hunza, and Skardu, Legend Hotels and Resorts is now Pakistan's fastest-growing hotel brand. Shortly, more than eight additional properties will be added to the portfolio.
Legend Hotel Skardu Specificity
The Legend Hotel Skardu, renowned for its lavish architecture and opulent luxuries, is situated in the mesmerisingly beautiful valley of Skardu. Immersed in a serene and calming environment, it lessens the stress of hospitality by adding speed and improving over time. Since the valley is a trekking paradise, there is a noteworthy influx of both domestic and foreign tourists, who are praised for their exceptional and unusual services. The hotel features a sophisticated environment that guarantees brilliance and incorporates international living standards.
Location
Kargrong, 16100, Hameed Garh Rd, Skardu and 8.5 kilometers from Ranga in Skardu.
Significant Tourist Attractions in Skardu  
Multiple places and events in Skardu fascinate tourists, like:
Skardu Fort
Lulusar Lake
Sheosar Lake
K2 Base Camp: Trekking Trail
Deosai National Park
Polo Festival, Skardu
Shigar Valley
Satpara Lake
Mankhotha Waterfall
Jashan e Nao Roz, Festival
Dining
The elegance and simplicity of the hotel add to the natural beauty of the surroundings while also offering comfort and convenience. Our customer service is built around ensuring their pleasure. We guarantee that our guests will be at ease and happy by providing a choice of room options. We have executive rooms, executive family suites, regular king rooms, regular twin rooms, and standard rooms with all the comforts and lovely views.
Timing
Opening for breakfast, brunch, lunch, and dinner.
Rules
Check-in is at 2:00 PM, and Check-out is at noon
Recommendation
Prices at the Legend Hotel Skardu may vary depending on the time of year, the hotel's policies, and other elements. Please do a check for the periods you want to stay in the hotel to see the pricing.
The mission of the Hotel
They are dedicated to exceeding their customer's expectations in every facet of our business to provide them with exceptional services and experiences. We foster a positive, encouraging, and productive workplace for our workers and stakeholder growth that is focused on results. Legend Hotels & Resorts seek to become a market leader in the travel, tourist, and hospitality industries by providing top-notch accommodations, amenities, and services at every level.
Meetings area
Anyone could plan events by choosing from the Board Rooms, Meeting Hall, auditorium, or other spaces created for this purpose. The Meeting Hall is spaciously designed to accommodate 80 people at its circular table, while the Auditorium has the enormous potential to accommodate up to 400 people in a traditional classroom. In addition to the two, the resort is furnished with an additional pair of board rooms, each of which can seat 25 people around a "U"-shaped table. So, if you're seeking for a spot where you can easily switch your attention from leisure to professional pursuits, this is it.
Workshop and training
For elevated training and seminars where friends get together to inspire, share ideas, and achieve their dreams, our contemporary meeting spaces are ideal.
Launches of products
Legend Hotels & Resorts promote experimentation and innovation, provides cutting-edge, collaborative learning environments, and places an emphasis on usability and features that go above and beyond expectations.
Corporate Seminars and Events
Your chosen location is the key to a successful event. When attending important meetings, you can concentrate your efforts on bringing ideas to life, since Legend Hotels & Resorts will take care of every last detail. They offer very good environments and a very current period, from small groups to enormous audiences, creating memorable moments for seminars of all shapes and sizes.
Personal experience
If you're traveling by car like me, your expectations for everything that arrives your way become pretty low during your difficult trip through Skardu and the Karakoram Highway. Mashabrum's picturesque surroundings and prime position will enhance your experience. The personnel is always willing to help, and the service is excellent. Additionally, WiFi will operate more effectively than it did previously.