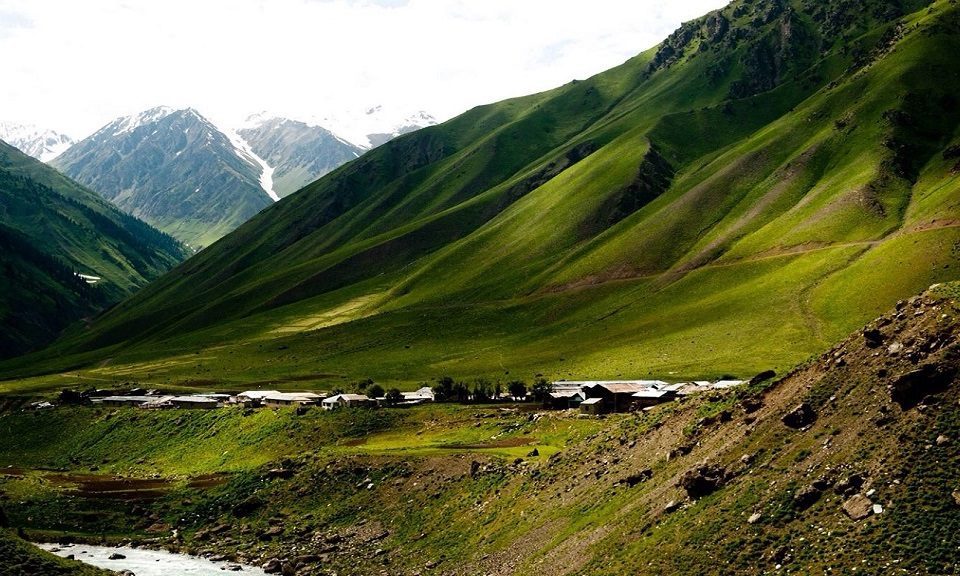 Minimarg is a village in the Astore District of Gilgit Baltistan. It is on the right bank of Azad Jammu & Kashmir, Taobat. It remained an ancient trade route between Gilgit and Srinagar until the partition of the Sub Continent. Globally known Burzill pass/top is located before Minimarg.
Burzil top is just a Statue of Beauty installed by the nature here. Minimarg itself is beautiful to the core. Freshwater fountains, clouds flying and wandering over the mountains, transparent water lakes, animals grazing in the lush green plains, ample and plentiful greenery, and melodious sounds of streams: this is none other than Minimarg valley and its surrounding one Domail.
Its renowned Rainbow Lake is second to none in charm, beauty, and attraction. Crystal Lake implores visitors to mesmerize themselves with its exotic beauty. As the whole area is under military supervision, it is well maintained, and the cleanliness is superb. One wonders why not he explored the glorious valley before it.
Must Visit:
Bruzil Top in Minimarg
On the way to Minimarg, the Bruzil top is an extremely magnificent and outstanding place. Flying snow at the renowned Burzil top is awe-inspiring view. Burzil Top is located at 13,808 feet in height. This is the most beautiful place ever. Snow prevailing on the top turns it into a Milky top. The Brusil top compels the visitors to clear their memories and forget everything else. Tourists become speechless after seeing this spot. There is no language to explain this wilderness.  Cameras are not allowed here due to military presence. A military post exists at the top.
Minimarg
Minimarg is beautiful beyond imagination. It is so original, away from the rush. Enchanting landscapes, roving clouds in the glorious mountains, spacious greenery, abundant plains, falling snow: this is Minimarg. Kashmiri culture is seen on the downside of villages. Hut-type houses, gleam faces, and traditional wool shawls are visible there.
Minimarg is too cold a destination. Even in hot summers, the temperature remains at a 10-degree centigrade.
Domail Valley
After entering into Minimarg check post, at a 12 km distance, Domail is the next spot. As you head towards Domail, scenic and wonderful views steal your heart and soul. Visitors travel this route quite peacefully and silently, lost in the magical scenery. For some moments, it feels as if we are in a dream. Tall trees alongside the road amplify the beauty of an already exceptional place.
In Domail, Rainbow Lake and Crystal Lake are situated.
An Army Mess named "Sun Room" to exists here; sitting near it, one can enjoy the scenery at Lake. Here, cooks appointed by Pak Army are available. Who entertains the visitors with fine tea and Pakoras.
Rainbow Lake
The Rainbow Lake is 55 km away from the Chilham check post. Rainbow Lake is just another world. Snowcapped Mountains, lush green landscapes, and tall Cedar Trees surround the Lake. Boats are available at the Lake. The boating rate for kids is 200 rupees and for adults is 300 rupees. Boating in the transparent green water of Rainbow Lake is just an awesome experience. Nearby mountains supply fresh water to the lake to the lake.
Quite clean washrooms exist at the Lake. Overall cleanliness is exemplary. Dustbins are installed everywhere. No rapper, empty bottle, or garbage is seen here.
Rainbow Lake is one of the most beautiful lakes in the world.
Crystal Lake
From Rainbow Lake, a trek goes upward in the direction of Crystal Lake. The trekking takes nearly 30 to 35 minutes. The entire way is extremely beautiful. The trekker forgets everything before this mesmerizing place. The Lake is called Crystal because its water is transparent and clear. Flowers blossom near the lake.
Fountain from Mountains
Near Crystal Lake, a fountain flows down the Mountain as the result of Glacier Melting. This scene can't be described in words. The sweet music caused by the fountain is exceptional. The water in the fountain is white like milk. What a Heavenly view! The breathtaking moments indeed.
Very few civilians have visited and enjoyed this extremely beautiful place. Before 2022, only Army personnel have been to this Paradise. Other citizens were unaware of it. Now, it is open to everyone, so it is highly recommended to explore the glamour, glitz, and charm of this spot.
A plaque written by Army personnel attracts the visitors: "What is a lifetime adventure for you, is a daily routine for us".
Route, Transport, and Conditions
Minimarg is approximately 540 kilometers away from Islamabad. It takes 17 hours to cover this distance.
From Astore to Gori kot and Gadai, the next point is the Chillam check post. The check post leads to Minimarg and Burzil Top. Both places are exceptionally beautiful. From Minimerg village, on the right side, Domail village and Rainbow Lake are located.
Minimerg is situated near the Line of Control. Military cantonments and formations are heavily deployed here. That's why it is a quite secure area.
To enter into Minimerg, tourists had to take permission and NOC from Pakistan Army.  However, since 2022, after 23 years, the spot has been opened for every citizen.
But, conditions are strictly applied, because it is a high surveillance area. Which includes original CNIC, no motorbikes or common vehicles, only 4×4 jeeps/vehicles. Which are easily available at Chilham Check Post.
Tourists are advised to start their journey in the early morning. Because, after 4:00 PM; tourists are not allowed to stay here. If one is willing to night stay, he has to take a permission letter from Deputy Commissioner Astore and arrange his night stay.
Jeeps are available for rent at Chilham Check post, in the range of 15,000 to 20,000 rupees. However, one can share the jeep with other tourists.
Some hotels exit at a little of distance from Chillam Check Post. The room is available for 2,000 to 3,000 rupees per night.
Minimarg is 48 km away from the Chilham Check Post. It is covered in approximately 2 to 3 hours.
The road to Minimerg is straight. However, after crossing Minimerg, the road is a little bit off road.