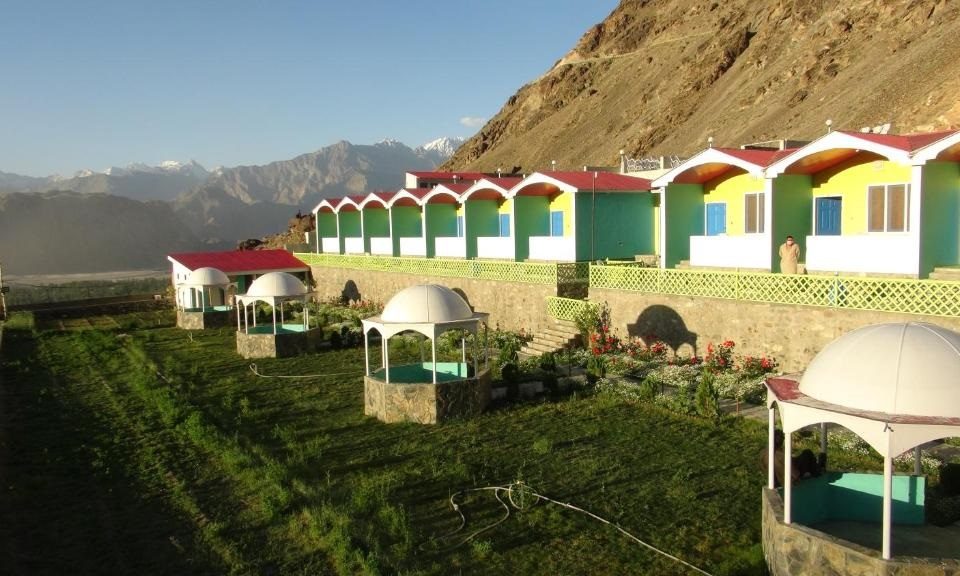 Surrounded by mountains and greenery, Hotel Mountain Lodge is a 5-star resort, just a few miles before Skardu. On the lakeside of Satpara Lake, the hotel offers a wide range of facilities. Apart from the amazing river view, nearby mountains, outside garden, terrace with every room, camping tents and cycles; diversified delicious meals, kids' entertainment facilities, and pets' special treatment, and so forth. The entire staff is hospitable and courteous; at every moment, ready to entertain the visitors. The hotel offers a lot of facilities that other resorts do not have.
The distinction of this hotel is the amazing views around it. Scenic mountains, abundant greenery, river view, and lakeside of Satpare surrounded it. We can see the beautiful points through the balconies and terraces of the hotel.
Mountain view
City View
Garden View
Landmark View
River view
Inner Courtyard View
Checkout Our Visit Packages
Skardu: Paradise on Earth
In the Gilgit Baltistan region, Skardu is a Paradise on Earth. Gigantic mountains, lush green meadows, forests of multiple fruits, trekking trails, historic valleys, archaeological sites, and tall trees of cherry, apple, Millbury, and pears; fascinate the tourists very much. 4 of the 14 Renowned Eight Thousand Mountains attract the hikers, trekkers, climbers, and adventurists from every corner of the world. Festivals of Skardu portray its glorious cultural and traditional values. Various beautiful lakes in Skardu do not let the tourists visit another place. Every year, thousands of tourists visit this heaven of beauty, natural scenery, adventure, and serenity.
Noteworthy Tourist Attractions in Skardu  
Multiple places and events in Skardu fascinate tourists, like:
Skardu Fort
Lulusar Lake
Sheosar Lake
K2 Base Camp: Trekking Trail
Deosai National Park
Polo Festival, Skardu
Shigar Valley
Satpara Lake
Mankhotha Waterfall
Jashan e Nao Roz, Festival
Weather of Skardu
During winters, the temperature remains -10 degrees seniti grade. October to February is winter months in Skardu. However, the temperature between April to October remains between 8-27-degree seniti grade. Therefore, the perfect season to visit the Skardu is April to October.
Location of Hotel Mountain Lodge
The hotel is on Satpara Road, Skardu. It is 17 km away from Skardu International Airport. Free Airport Shuttle service is available from the hotel. Skardu city is 7.6 km from the hotel. We can view the city from the property. The hotel is at a height of Skardu.
Spots in Hotel Vicinity
City Park = 2.7 km
Polo Ground = 5 km
Skardu Airport = 17 km
Centre of Skardu city = 5 km
Buddha Rock = 2.2 km (7 minutes)
Sadpara Hiking = Walking distance
Distinctions of the Hotel
Amazing view of Sunsets and Sun Rise
Popular for Cycling
Terrace with every room
Seating Area in Every Room
Beautiful view of Mountains from the room
Outdoor picnic place with tents and camping facilities
Salient features of Hotel Mountain Lodge
Terrace rooms
Dining facility in a stunning outdoor place
Scenic Garden
Fireplace arrangement in outdoor/ Rooftop Bar
Laundry Service
24-hours Front Desk
TV Area in the lounge
Gift Shop
High-Speeded Wi-fi in the entire hotel
A mini market in the hotel
Grocery Delivery (extra charges)
Room Types
Deluxe Single Room. It comprises 1 single bed and a maximum of 1 person can stay here.
Deluxe Double Room. There is one large double in it. Two adults and one child can stay in it.
Family Room with Mountain View. It contains 2 double beds. The room can adjust a maximum of 5 persons.
Deluxe Double room. It has 2 single beds. Only 2 people can live in it.
Facilities in Rooms
Writing Desk
Coffee / Tea maker
Breakfast in the room
A flat-screen TV with cabal network
Carpeted rooms
Wi-Fi in rooms
Mosquito Net
Electric Blankets
Kitchen Amenities
Coffee Maker/ Dining Table
Refrigerator
Washing Machine
Tumble Dryer
High Chair for Children
Features of Living Area
Fireplace/ Sofa for relaxation/ Seating Area
Desk/ Telephone
A flat-screen TV with satellite channels/ Pay-per-view channels
Facilities for Vehicles
Parking Garage
Charging Station for Electric Vehicles
Accessible Parking
Services at Reception
Currency Exchange
24 hours Front Desk
ATM Machine available
Tickets and Transportation hiring services for Tour
Luggage Storage
Facilities for Kids and Families
There is no restriction for children of any age at Mountain Lodge. The administration tries its utmost to keep the kids happy, healthy and entertained. They have provided multiple facilities for kids at the hotel:
The outdoor playing equipment for kids
Indoor play area for kids
Music, books, and DVDs for kids
Safety socket covers for children
Many Child Service
Amenities for Business Community
Fax machine/ Photocopy Machine
Business Centre with Internet access
Conference Room/ Meeting Room
Banquet Arrangement (extra payment)
Arrangements for Safety and Security
24 hours security
Fire extinguishers/ Security alarms/ Smoke alarms
safe deposit box
CCTV Cameras outside the hotel
CCTV Cameras in common rooms/ Key card access
 Food, Meals, and Drinks
Breakfast in the room
Meals for Kids/ Buffet for Kids
Minibar/ Fruits
Champagne & Wine (extra charges)
They can arrange a special dinner and breakfast if requested
Barbeque facility/ Specific Diet Menus
Restaurant in Hotel
Tea and coffee makers in rooms and public area
Pets at Mountain Lodge
Pets are always welcome
No extra charges
Pet Basket
Pet Bowls
Check-in starts at noon. Check Out until 11 am.
Master and Visa Credit / Debit Cards are accepted.
Contact Details: For booking and other queries, please contact at +92(336)6675558