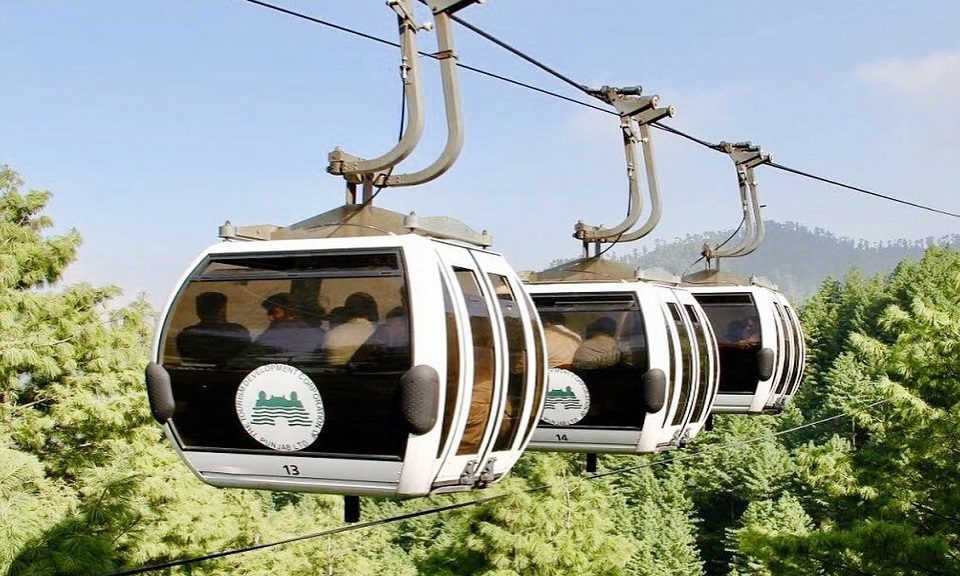 Murree and the surroundings are quite popular with visitors from all across the nation and even from beyond. One of the main draws for visitors to the hilly area is the Patriata chairlift.
Throughout the year, travelers travel to Patriata, but their numbers are at their highest in the summer. The country's longest and most technologically advanced lift and cable/Cabin vehicle measure 3.25 kilometers in length. According to an official, the Patriata institution receives almost one million visitors annually.
In addition to normal workers, there are a lot of traders who rely on tourism for their existence. With technical assistance from an Austrian company, the Nawaz Sharif administration in Punjab erected the lift and cable car facilities in 1990.
Mr. Fazal claims that to keep the lift safe for tourists, the Austrian organization is still performing maintenance and upgrades on various lift components.
Checkout Our Visit Packages
According to Mohsin Fazil, general manager of the Patriata chairlift, more than 0.5 million tickets are purchased annually, generating around Rs260 million, while approximately Rs50 million is used for operating costs and other expenses, including personnel pay.
Additionally, Patriata is near and its top-notch chair lift in Pakistan is operated internationally. It is thought to be the state of Punjab's highest point. Additionally, Patriata is a tranquil hideaway at Murree's highest point. The scenery in Patriata is astonishingly lovely. The steep forested mountains, deep valleys, and terraced slopes all contribute to the area's natural beauty. The price for Patriata Chair Lift Tickets in 2022 is between 750 and 950 Pakistani Rupees (PKR per person (Adults and children both have the same Price)
Summer Discounts
The lift is fully operational during the summer, although during the off-peak months, students and other organizations are given a 10% discount. Snow covers every hill in the winter, but lush green scenery is visible in the summer.
Patriata Chairlift Location
The lift is situated about 15 kilometers from the town of Murree, running from Ghulehrra Gali to Patriata Top, which is located at an elevation of roughly 7,500 feet above sea level in Himalayan feet at 33 54′ 30′′ north latitude and 73 26′′ east longitude. The most well-known hill station in Pakistan's Murree Pakistan Mountains is located 50 kilometers to the northeast of the country. It's a mountainous region that is a part of the outer Himalayas. There are four significant supers in the Murree Mountains, which are rising with time. The remaining women are Patriata, Kuldana, and Gharial. In the east, the River Jhelum is bordered by the KPK districts of Abbottabad and Haripur to the north and west, the Islamabad Capital Territory to the southwest, and Kotli Sattian Tehsil (town) of the Rawalpindi district to the south.
Patriata History
City lore claims that the location got its name by mistake. A foreign visitor arrived at this location before Pakistan gained its independence. Because he was unsure of its name, he turned to an elderly woman for assistance. She was holding a pot of flour on her head and did not speak English. She imagined he was inquiring about flour and responded, "Puttar, Atta," in Northern Punjabi or another Northern Pakistani language. Translation: "Son, that's flour." The location was then given the name Pathriata, which is a combination of the phrases Puttar Atta in Northern Punjabi and Northern Pakistani.
Specificity
Patriata is a more popular tourist destination than places farther south because of its cooler climate. Patriata is seen by many as being more beautiful because of the significant tourist industry in Murree. Visitors can reach the highest points via a cable car and gondola chair lift system. Numerous monkeys and leopards can be seen in the densely forested area. The Patriata Chair Lift is also one of the biggest and longest chair lifts in Murree, Pakistan. In addition, the cost of a chair lift ticket is PKR 1000 per person. The Murree Patriata Chairlift is open from 9:00 am to 4:00 pm. Similar to the chairlift, the entire journey is around 7 kilometers long. There are 56 seats in total.
For any inquiries
Contact the Patriata Chairlift at 03133211222 (please only send WhatsApp). By road, the distance between Murree and Patriata Chairlift is roughly 13 kilometers. 7500 feet above sea level is New Murree's distance height.
A world-class ski lift operated to a high standard. The chairlift in Patriata is well-known and can be found within walking distance. At the top of the Murree Hills, which is also the highest point in Punjab, sits the tranquil refuge known as Patriata. The scenery in Patriata is stunning. Views of this incredibly attractive region are provided by high, forested peaks, deep, intersecting valleys, and terraced slopes. Transport to the maximum height is available by a chair lift and cable car system. Numerous monkeys and leopards can be seen in the densely forested area.
From New Murree, you can reach Patriata through a top-notch chair lift and cable car system. Around 7 kilometers make up the entire journey. Between the hills is where New Murree is located. Here, you must purchase a ticket for Rs. 170/- (about $3/-) ticket for the Chair Lift and Cable Car. you are then taken to an intermediate hill by chairlift. Patriata Hill is reached from there via a cable car. A lifetime memory is created on the Chairlift and Cable Car excursion. Hills near and long distances can be seen in many beautiful situations.
Threat
Patriata was one of the poorest and most isolated settlements in Murree, but when the chairlift was installed, many locals found work and other sources of income. The locals, meanwhile, have been grumbling that the chairlift cabins that pass over their homes are a threat to their privacy. They ask to be compensated to have their homes rebuilt somewhere.