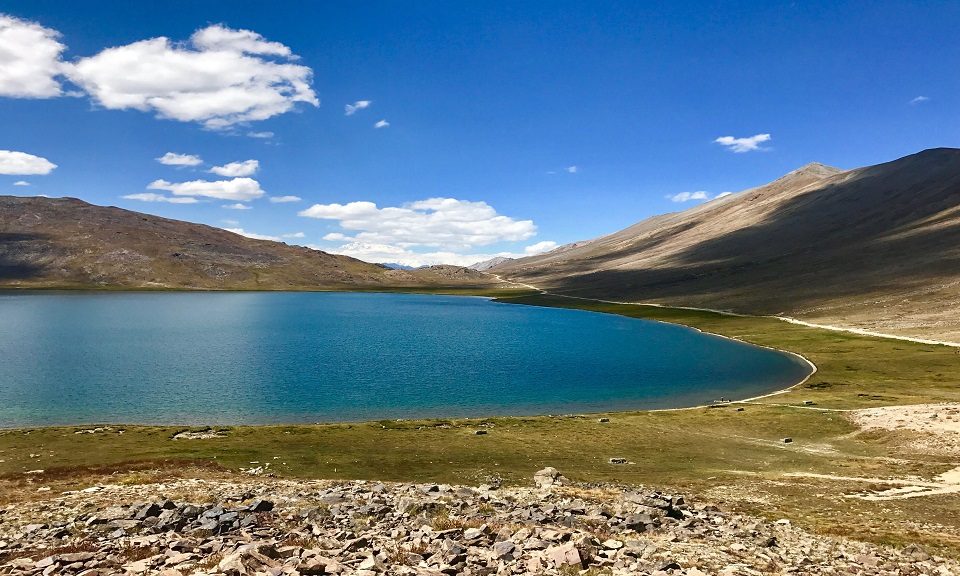 Sheosar Lake is an Alpine Lake, located in the awe-inspiring Skardu Valley of Pakistan. It is often called The Heart of Deosai. 'Sheo' means blind and 'Sar' means Lake in the Shina language. It is considered one of the high-altitude lakes in the world. The lake is situated at 4,142 meters above sea level. It is situated almost at the Korakoram-Himalaya border. The enchanting Nanga Parbat Mountains appear behind it. The lake hosts incredible wildlife with Brown Bears, Golden Marmots, and the National Animal of Pakistan, the Markhor. Sheosar Lake is surrounded by a range of natural attractions, including rare alpine flora and fauna. With changing seasons, the surroundings of the Sheosar Lake are adorned in alluring natural colors. The Lake is beamed with fish in winter, which is a great source of food for the brown bears.
Location of Sheosar Lake
Sheosar is located in the green and clean Deosai National Park. From central Skardu city, the distance of the lake is 65 kilometers. Astor Village is 16 km away.
The climate of Sheosar Lake
The climate of the Lake is unpredictable. The best months to visit it are from June to August. The weather is pleasant during this summer period. Beautiful Butterflies are seen during these months. Flowers of diverse patterns and colors blossom. Sometimes, the atmosphere remains dry due to no rainfall in June and July.
But, during winters the whole Skardu region is capped with snow, and at night visibility is only 10 km. and the temperature drops to -27 Celsius. The harsh winter period is between November to May. The water of the lake remains frozen during these months. Grass turns brown during Autumn.
Must Visit:
How to access Sheosar Lake?
Sheosar Lake is located in Deosai. So, visitors have to reach Deosai first.
Deosai is located between Skardu and Astore Valley.
There are two routes toward Deosai. 1st one is through Skardu city, which is about 40 km.
Another route is via Astore valley, which is comparatively longer.
From Skardu Bazar, a road turns towards Sadpara Village. After crossing Sadpara village, Sadpara Lake occurs. On the zig-zagged road, Sadpara Lake is an extremely beautiful spot. After crossing the lake and Sadpara Chauki, there begins under repair road. On the one side are tall gigantic mountains; on the other a deep steep (KHAI). The person traveling on the road first time feels his heart sinking. Owing to dangerous roads, the journey towards Deosai is often called "A Wilderness in Peril". Yet, keeping in view of the scenic beauty of Deosai, this is not an expensive deal.
For Deosai, the Jeep is easily available from Skardu. It costs around Rs.18,000.
The visitors use their vehicles as well, for Deosai to travel. Yet, this is not recommended. Because vehicle disorder on the way or any stone from passing by mountains could create a tense situation.
Distance of Sheosar Lake from Deosai is only 21.9 km.
Entertainment and Adventure at Sheosar Lake
Boating
During spring and summer, boating is a much sought-after activity at Sheosar Lake. The blue water of the lake implores the tourists to enjoy it. Boats of different colors roaming in the cool transparent water of Sheosar attract the eyes of visitors. Fish species in the lake can also be explored via boating.
Camping
Roaming clouds, grassy plains, and mighty mountains in the surroundings; and its outstanding lake with blue water. Who would refuse to stay in this beautiful spot? So, the visitors like to do camping at Sheosar Lake. Bone fires, BBQ, song competitions, and other fun activities make the stay memorable. Yet, camping is recommended in the summer only. Because there is the least possibility of rain during this period.
Fishing
One visiting Sheosar Lake should never forget fishing at this spot. The transparent blue waters of the lake invite the tourists to explore the Fish. The local people offer their services for fishing to tourists. They can cook the fish too in their traditional way. However, mostly the visitors themselves explore the fish and cook it. As it is more memorable and enjoyable.
Hiking
As Sheosar lake is located near Deosai. Often, tourists prefer hiking from Deosai National Park to Sheosar Lake.
A 5-6 day trek from Skardu to Ali Malik Mar towards Barah Pani is also popular with tourists. Barah Pani further leads to Chota Pani and Sheosar Lake. The Lake is only 15 km away from Barah Pani.
Sightseeing
North Pakistan is replete with breathtaking sights which attract tourists from every nook and cranny of the country. The journey itself to Sheosar Lake from Skardu is full of such beautiful sights and venues. Gigantic mountains, freshwater streams, grassy meadows, and abundantly green plains along with other attractive sights; one enjoys during this journey.
Moreover, Sheosar Lake looks exceptionally attractive in the evenings, when the sun sets and the moon appears. This scene is so beautiful that one can't turn his eyes to any other side.
Night stay at Sheosar Lake
There is no arrangement for a night stay at Sheosar Lake. No guest house or hotel is there. Visitors keen to stay at the lake can avail of this facility via Camping. One may opt for Astore Village for a night halt.
 Significant tourist attractions near Sheosar Lake
Deosai National Park:
Also known as "Giant Plains". As clear from the name, it is the blend of two words: Deo means "Giant" and Sai means "Shadow". This largest plains in the world is so beautiful that no language can explain it. The park hosts multiple types of birds, rare species of animals, various herbs used in medicines, and flowers of different patterns and colors.
During spring, the park beams with Butterflies and fragrances of flowers. Primarily, the park was established to preserve the precious BROWN BEAR. However, the Deosai remains snowcapped for 8 months of the year. The beauty and charm of Deoarei are at their apex during Spring.
Barah Pani:
It is a freshwater lake just b5 km from Sheosar Lake. It is a freshwater lake. The Sunset view is just stunning at Barah Pani.
Chota Pani:
Also known as Kala Pani, Chota Pani too is a freshwater stream. It is just next to Barah Pani. It is a worth visiting place.