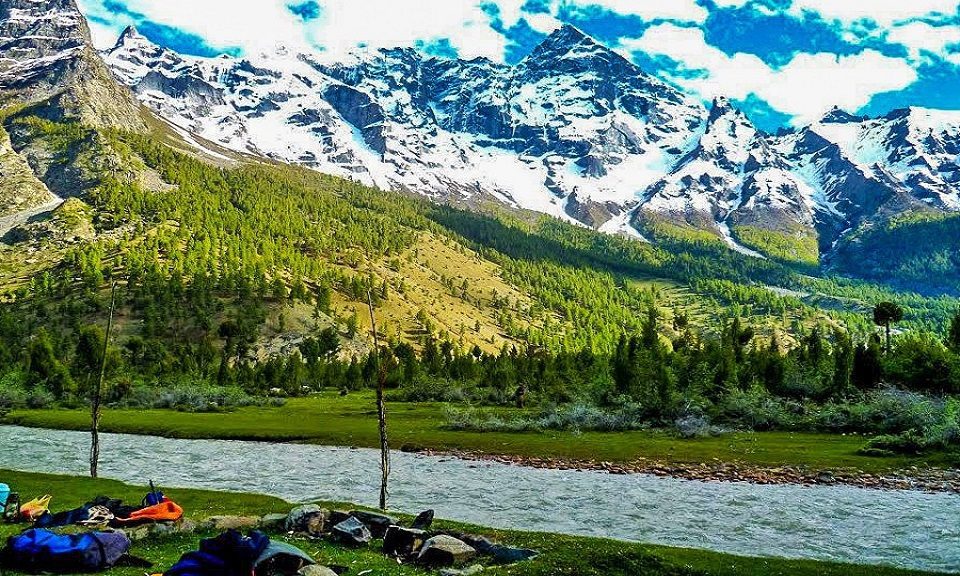 From Skardu city, the journey through the Basho meadows lasts about 3.5 hours. The Basho valley's residents depend on the lush, verdant meadow for grazing their cattle and as a source of food. One of the most popular tourist destinations in Skardu, Pakistan's northern region, is the Basho Valley with its stunning natural scenery, towering snow-capped mountains, and rustic charm.
On three sides of the valley, there are tall mountains. which also harbors ibex, deer, markhor, and snow leopards. Due to the extensive forests and stunning scenery, this location stands out among the rest of the area. The only Eco-adventure location in Baltistan. Basho Place in Baltistan is a beautiful but dejected valley to view.
You can also check:
One of Skardu's beautiful locations is the Basho Meadows. This Basho pastureland is a must-see location when visiting Gilgit Baltistan in the summer.
Residents pasture their livestock in the meadow. During the summer, residents of Basho Valley temporarily relocate to Basho Meadows with their livestock. For their sheep, goats, and cows, this is their only source of food. Butter and other similar products are where the majority of the residents' income comes from. There are many options for music, camping, and organic food.
Basho Meadows Location
Basho Meadows in the Baltistan Division's Skardu district, shown in all its beautiful landscapes. About 8,800 feet above sea level, the valley is located. Approximately 10,000 feet above sea level, 45 kilometers from Skardu, Gilgit Baltistan.
How To Access
Considering that the valley is in the heart of a mountain range, the trip would be challenging. You ought to be able to get there, though, if you adhere to the instructions given below.
Embark on a Gilgit voyage from Skardu Road to Gilgit from Skardu. You arrive at the Basho Valley Crossing bridge on the Gilgit Skardu Road after traveling 40 kilometers (one hour).
from the Basho Bridge, to go to Basho Meadow, which is inaccessible by regular vehicles, take a local bus or train (2 hours)
What is Best in Bashow Meadows
Tourists from throughout the world are increasingly attracted to the Basho Valley. The valley is expected to become more well-liked in the coming years, making it a significant travel destination for both hikers and animal aficionados.
For people who love the outdoors, the Basho Valley is a stunning and picturesque destination. The Basho Valley is a fantastic location for hikers of all skill levels due to its simple availability and abundance of trekking paths. This a wonderful place to visit for those who enjoy animals because it is also house to several endangered and uncommon species. It is unquestionably the destination for you if you're seeking for a magnificent area to explore.
History and Culture
British mountaineer William Martin Conway made the first voyage into the Basho Valley in 1892. Conway gave the valley his admiration for the famous Japanese poet Matsuo Basho. Before several expeditions were organized in the 1950s to ascend the Basho Glacier and study the surrounding area, the valley was completely undiscovered.
It is worthwhile to explore the history and culture of Basho Valley. Several significant historical sites can be found in the Valley. One of the very few unspoiled tourist destinations on Earth is Basho Valley in Skardu. The visitor may enjoy the traditional Pakistani existence there without being overwhelmed by swarms of other tourists. The historic location is bursting with Pakistani culture and distinctive sights.
Breathtaking views
Basho Valley in Pakistan's Skardu is among the most breathtaking places on earth. The Valley is a genuine paradise for nature enthusiasts because it is encircled by imposing mountains. Adventures can be had in a variety of ways, including hiking and rock climbing. Also, the vistas! The natural splendor of this location will captivate you, whether you are gazing at the towering hills or the lake's glistening waters. The Basho Canyon is the ideal location if you want an experience that will live long in your memory.
Unforgettable sight
Due to its spectacular surroundings and welcoming locals, Basho Valley Skardu is a place that visitors will never forget. The Valley is surrounded by mountains, as well as the air is clear and refreshing. The residents of the Valley are friendly and welcoming. They also take great pride in their history and culture. Visit the nearby villages if you can to learn more about their welcoming culture. Pakistan's Basho Valley Skardu is unquestionably a must-visit location.
Inexpensive Tour Destination
For those wishing to travel cheaply and explore Pakistan, the Basho meadows trip is a great choice. It's a terrific site to trek and camp and is noted for its stunning surroundings. Especially when compared to other travel locations, going to Basho Valley Skardu is a cheap trip. There are lots of inexpensive activities in the neighborhood, and the cost of meals and lodging is fairly affordable. Basho Valley Skardu needs to be on your list whether you're searching for an inexpensive vacation spot or an adventure getaway off the main path.
Numerous Outdoor Adventures
There is plenty to appreciate for everyone, including the Rocky Mountains, soaring peaks, flowing rivers, and beautiful green valleys. In terms of outdoor pursuits, Basho Valley offers something for everyone, including hiking, camping, fishing, and skiing.
Weather in Bashow
Compared to Skardu, the Basho Valley has a colder climate. Wintertime temperatures range from -15 to -25 degrees Celsius. Basho's summer is like a heavenly season. There has been raining for at least a week, and the temperature ranges from 15 to 20 degrees.