Best places to Visit Naran Kaghan
It is a well-known tourist destination, both domestically and abroad. Around 1.5 million people visit Naran valley annually, making it Pakistan's most popular valley. There are best places to visit, due to the favourable weather in the summer, hundreds of travellers flock to experience the valley every year, making Naran Kaghan a popular tourist destination. Shogran,  Kaghan, Lake Saif-ul-Malook, Siri Paye, Naran, Babusar Top, and Lulusar Lake are the major attractions in the Naran Kaghan (Northern Pakistan).
Best Places to Stay Night In Naran Kaghan
The best places to stay at night are in Shogran and Naran, where there are many hotel options, vibrant nightlife, and opportunities for horseback riding and jeep rides, kilometres Siri Paye and Saif-ul-Malook.
Location: The town of Naran is the top tourist destination in Pakistan's Khyber Pakhtunkhwa province's upper Kaghan Valley's Mansehra District. It is situated at an elevation of 2,409 meters and 119 kilometres (74 miles) away from Mansehra city (7,904 ft). Babusar Top is around 65 kilometres (40 miles) away from it.
Climate: Naran has a humid continental climate. Summers see a lot of rain, and winters see a lot of snow. Cloudy weather pervades the entire year, on average. Wintertime temperatures are frequently below 0 °C with significant snowfall. In summer temperatures rarely rise beyond 15 °C, and there are frequent rains. Summer in Naran is still active, starting earlier, and tourists are continuing into the late fall. Naran's yearly average temperature is 10.1 °C.
While visiting Naran, one can engage in a variety of enjoyable activities. We have selected a few that are popular with visitors…
Our Packages to Visit in Skardu:
Shopping at Naran mall road: Naran and Kaghan both have countless choices concerning shopping. There are stitched and unstitched warm clothes, traditional woollen caps, toys, embroidered shawls, dry fruits and handicrafts.
Savoury foods: It is famous for food items like mutton, chicken and trout fish, ice creams, hot beverages, traditional pakhtun and afghani cuisine as lamb dishes.
Travel by your transport: It will be time taking and tiring by your vehicle. You can go from Murre, Balakot, Abbottabad, Nithia Gali, Hazara motorway, Islamabad motorway, Mansehra and from Peshawar by ur own transport.
By public conveyance: It is more feasible to go by public transport via aeroplanes, buses, and trains.
The best places to visit in Naran Kaghan
Shogran
Shogran, a hill station 30 kilometres from Balakot, is renowned for its rich vegetation, pine forests, and panoramic vistas. Summertime Shogran temperature stays around 18 degrees Celsius. The best housing options in Shogran are provided by Pine Park Shogran.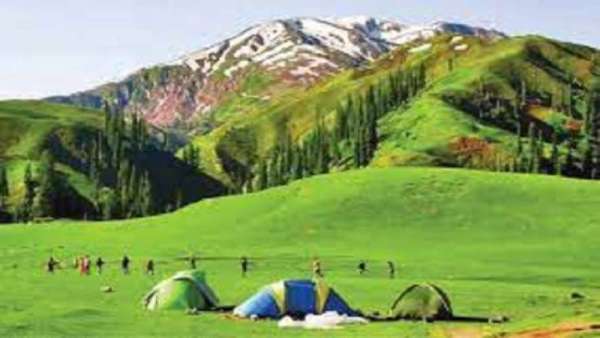 Location: From Kiwayi, it is a 20–30-minute drive away.
Weather: Shogran weather remains satisfying in summer but cold in winter.
Sire Paye
Siri Paye is a lush, cloud-covered area with entrancing views of snow-capped mountains. You must stop at Siri Paye Plains and Siri Lake on your trip to Shogran. Although the road from Shogran to Siri Paye is not in great shape, this location is worth visiting.
Location: Another tourist spot is Siri Paye Meadows, which is roughly 6 miles from Shogran.
Best route: From Shogran, rent a jeep and take the scenic route to Siri Paye Meadows. The pavement is excessively uneven and dirty.
Best riding: Visitors can stroll through the lushly covered fields of Siri Paye, ride horses alongside the lake, and breathe in the clean air.
Naran
A little village 120 kilometres from Mansehra welcomes you with a massive glacier as you approach it. PTDC Naran, De Manche Naran, Rose valley Naran, Pine Park Naran, Faran hotel and Naran City Hotel are some of the major hotels in Naran.
Location: The valley is situated along the Kunhar River and the stream that flows into Lake Saif ul Malook.
Best time to visit: Every year, between mid-June and mid-November, the oldest tourist destination in Pakistan receives close to 1 lac visitors.
Naran Lalazar
Without Lalazar Meadows, sites in Naran Kaghan are incomplete. Lalazar, another fantastic tourist destination in Naran with distinctive, fantastic views in most valuable, is strongly associated with the spectacular Babusar Top. Because of the high elevation, which is around 3123 metres, the climate is temperate and ideal for families with children. The best route is by jeep.
Kaghan
A well-known tourist destination, Kaghan Lalazaar is best enjoyed by families Before Naran Valley is Kaghan Valley. In Pakistan's Khyber Pakhtunkhwa province's Mansehra District, there is a mountainous valley known as the Kaghan Valley. A minor market is also located along the N-15 Naran road. In Pakistan's Khyber Pakhtunkhwa province's Mansehra District, there is an alpine valley known as the Kaghan Valley.
Access: By car, it is possible to go from Balakot to the Kaghan Valley via Mansehra and Abbottabad.
Jharkhand
The Kaghan Valley's second-to-last town is this one. From here, the Kunhar River touches the surroundings. You can take in the combined natural splendour of a river and beautiful green meadows. Additionally, it is roughly 3410 metres high and the lake with a stunning spectacular view of the Kaghan Valley's tallest point.
Lake Saif ul Malook
The legendary tale of the Prince of Persia involves Saif ul Malook Lake and a local storyteller.
Location: Alpine Glaciers Lake, which is 10,000 feet above sea level and is situated about 7 kilometres from Naran Bazaar.
Babusar Top
A well-known stop on your trip to the Naran Kaghan Valley is Babusar Top, a big hill in the north that connects Thak Nala with Chilas, which is located 70 kilometres from Naran. After all, this pass makes it simple to go to Hunza, Skardu, and Fairy Meadows.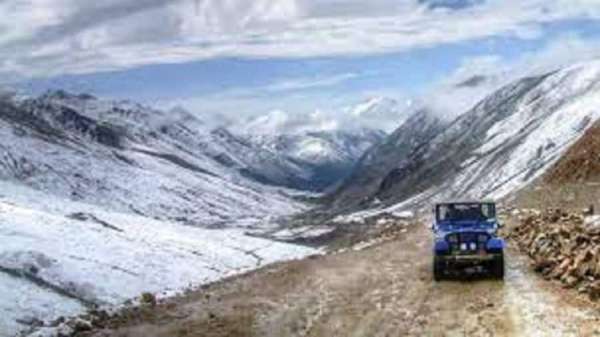 Location: Babusar Pass, which is located at a peak of 4173 metres, is now a well-liked tourist destination throughout the summer. The Kaghan Valley pass is located at its highest point. Babusar Top is roughly 65 kilometres away from Naran Valley.
Best route: Vehicles of every kind can travel through this pass. Drivers should be professionals for this route.
Lulusar Lake 
At the Lulsar-Dudipatsar National Park, a little lake. The lake was given the name Lulusar in honour of the mountain of the same name. The words "Lulu" and "Sar," which in Pashtu means "top" or "crest," are combined to form the name Lulusar.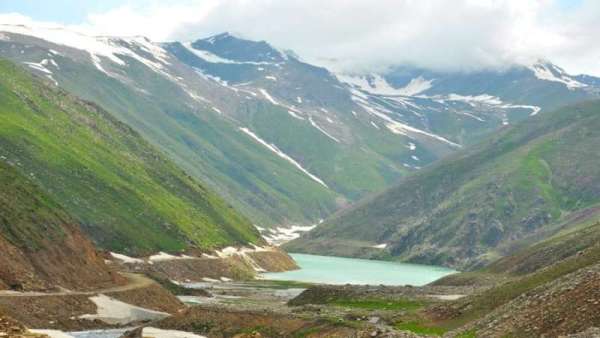 Location: The lake is located 11,200 feet (3,410 metres) above sea level. You can stop by it on the route to Babusar Top. It may take 2.5 hours to get to Lulusar (Lulusar) Lake from Naran Town, which is located around 50 kilometres away.
Best restaurant: The finest place to refuel just before the lake is Moon Restaurant.
Best activities: fishing, rafting, boating, hiking, and trekking.