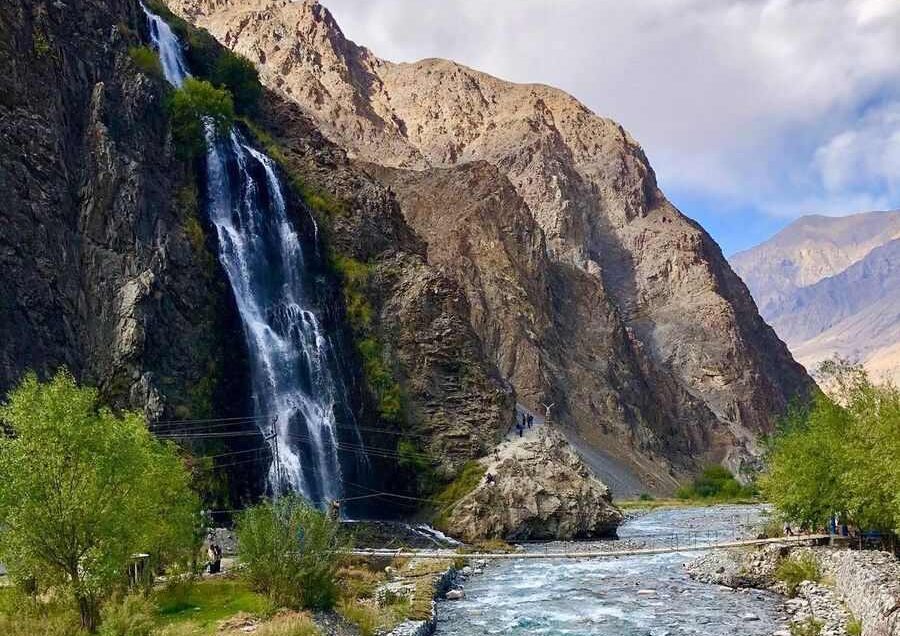 Discovering the Beauty of Kharmang Valley: Manthokha Waterfall. Mankhokha Waterfall is nestled deep within the scenic Kharmang Valley in Gilgit-Baltistan, Pakistan. Lies the picturesque Manthokha Waterfall. This magnificent waterfall is waiting to be discovered by adventure seekers and nature lovers.
Where Can You Find This Stunning Waterfall?
Located about 80 kilometers from the city of Skardu. Manthokha Waterfall is a stunning sight to behold. The waterfall cascades down a rocky cliff face. Surrounded by lush greenery and towering mountains. The water plunges down into a natural pool. The visitors can take a refreshing dip and enjoy the cool mist of the waterfall.
Road to Kharmang Valley is pretty good. One can expect an average speed of 60 km/h. Although road is bumpy and pitted at places. One thing for sure, route to Kharmang is full of natural beauty. One is forced to stop at places just to observe the serenity and natural beauty
Last leg of the journey is around 5 km and is actually tiring. There is no metallic road and speed is just around 10 km/h or even less
How Much It Will Cost to Visit Manthokha Water Fall From Skardu City?
The journey to Manthokha Waterfall is fairly easy. Hiring a car is a good option. The local transport is not that comfortable. Hiring a car will cost around 15000 PKR (around 50-55$) whereas hiring a 5-door will cost one around 18000-20000 PKR (65$-75$).
The Majestic Beauty of a Waterfall: A Natural Wonder to Behold
Once you reach the waterfall, you can take a leisurely stroll around the area and enjoy the serene surroundings. There are several spots around the waterfall. You can relax and take in the beauty of the waterfall. The natural beauty of the waterfall and its surroundings provide a perfect backdrop for capturing stunning photographs. The mist of the waterfall creates a mystical atmosphere that is ideal for taking unique and breathtaking photos.
Places Nearby Manthokha Waterfall
Visitors to Manthokha Waterfall can also explore Manthokha Village. Mehdi Abad Village, Tolti Valley and many small Villages nearby. These areas offer a glimpse into the local culture and traditions of the people living in the Kharmang Valley. You can also indulge in the local cuisine, which is famous for its unique flavors and spices.
Best Weather to Visit Manthokha Waterfall
Manthokha Waterfall is located in Kharmang Valley which is a beautiful region located in the Gilgit-Baltistan region of Pakistan. In summer, the weather in Kharmang Valley is generally mild and pleasant. Temperatures can range from around 20°C to 30°C during the day, with slightly cooler temperatures at night. The valley receives a moderate amount of rainfall during this time, with occasional thunderstorms and rain showers. The lush greenery of the valley is at its peak during summer, with colorful wildflowers blooming and fruit trees bearing ripe fruit. Tourists from all over the world come to visit the Kharmang Valley during this season to experience its natural beauty and pleasant weather.
Best Access to Manthokha Water Fall For National & International Travelers
To travel from Islamabad to Kharmang Valley, you have a few options:
By Road: The most common and convenient way to reach Kharmang Valley is by road. You can hire a private car or take a public transport bus from Islamabad to Skardu. From Skardu, Kharmang Valley is only a few hours' drive away.
By Air: The nearest airport to Kharmang Valley is Skardu Airport, which is about 40 km away. You can take a domestic flight from Islamabad to Skardu, and then hire a private car or take a public transport Van to Kharmang Valley.
By Bus: You can also take a direct bus from Islamabad to Skardu, and then hire a private car or take a public transport Van to Kharmang Valley.
By Car: If you have your own car, you can drive from Islamabad to Skardu and then to Kharmang Valley. However, keep in mind that the road to Skardu is long and difficult, so it is important to have an experienced driver and a reliable vehicle.
Overall, the best way to travel to Kharmang Valley from Islamabad depends on your budget, travel preferences, and time constraints.
Why Should You Visit Manthokha Waterfall?
In conclusion, Manthokha Waterfall is a hidden gem that is waiting to be discovered by travelers. It is an excellent destination for adventure seekers, nature lovers, and photography enthusiasts. The natural beauty of the waterfall and its surroundings is truly breathtaking. Making it an unforgettable experience for anyone who visits. So, if you're planning a trip to Gilgit-Baltistan, make sure to include Manthokha Waterfall in your itinerary. You won't be disappointed!