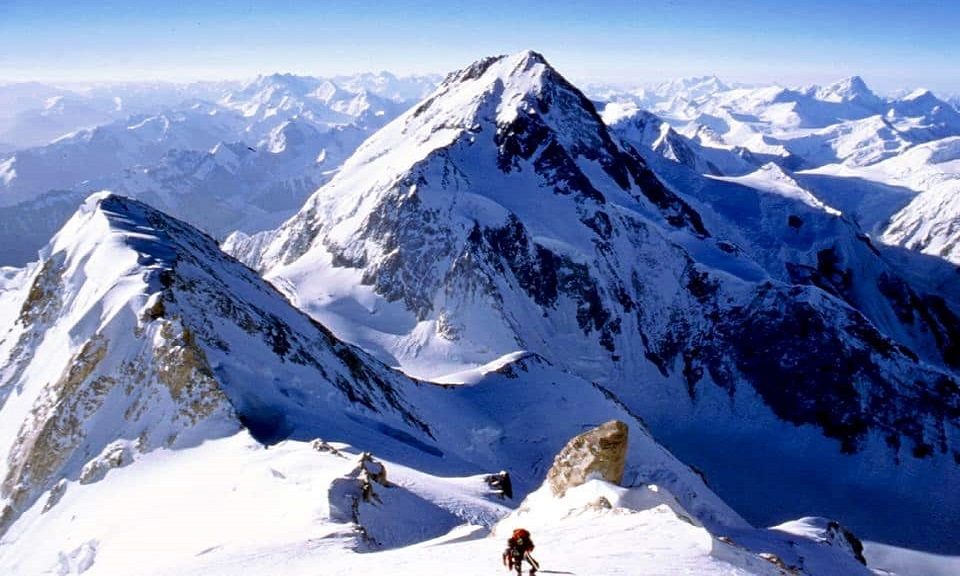 Gasherbrum II Expedition
Registration for the 2023–24 Gasherbrum II Expedition is currently open. The 8,000-meter peak G2 is one of the furthest away. Dan Mazur is a skilled leader who has successfully led expeditions to the summit of Everest, Broad Peak, K2, and more than a dozen other peaks.
The adventure includes transportation throughout the Karakorum, meals, lodging, staff, dedicated climbing Sherpas, and shared equipment. Push your limits away from the crowds at a high elevation and experience this reachable objective surrounded by some of the world's most eerie, breathtaking terrain.
A Gasherbrum climb Members of this expedition will have the chance to climb two 8,000-meter peaks in a single trip if I am included no it. An Austrian expedition led by Fritz Moravec, Josef Larch, and Hans Willenpart made the first ascent of the mountain on July 7, 1956.
Location
A summit elevation of 8,035 m (26,362 ft) above sea level makes Gasherbrum II the 13th tallest mountain in the world. Ten times fewer people have climbed it than Mount Everest, which is situated across from it on the border of Pakistan and China.
It is situated near the apex of the Baltoro Glacier and is a component of the Himalayan Karakoram mountain range. It is the third-highest element of the Gasherbrum group, following Broad Peak and Gasherbrum I, all of which stand at 8,034 metres (26,358 feet) in elevation (8,051 metres or 26,414 feet).
Because Gasherbrum II has a topographical prominence of just 461 metres, some people believe that Gasherbrum III is a subpeak of Gasherbrum II (1,512 ft).
Naming and History
The mountain was discovered in 1856 by Thomas George Montgomerie, a British Royal Engineer who was a member of the Great Trigonometric Survey. He gave it the name "K4", which stands for the fourth mountain of the Karakoram.
The Balti terms rgasha (meaning "beautiful") and Brumm are where the name "Gasherbrum" originates ("mountain"). Contrary to popular opinion, it does not refer to a "shining wall," as Sir William Martin Conway claimed when he described the neighbouring Gasherbrum IV during an excavation in 1892. Leila Esfandyari reached the summit on July 22, 2011, but unfortunately, she passed away on the way down.
The Winter ascent of Gasherbrum II was first accomplished on February 2, 2011, by Cory Richards, Denis Urubko, and Simone Moro. They managed to reach the summit at 11:30 am without the aid of porters or additional oxygen despite being buried by a class-four avalanche.
The expedition was captured on camera by Richards, who made history as the first American to ascend an eight-thousand in the dead of winter. Cold is the result.
What is likely the first ascent of the real West Face was made on July 16, 2018, when Felix Berg and Adam Bielecki reached the summit of Gasherbrum II.
Overview
To the heart of The Karakoram: The Gasherbrum II Expedition
Discover the traditions and warmth of the welcoming Balti people.
Glacier hiking on Baltoro and Godwin-Austen
See the sunrise from Concordia across K2 and Broad Peak.
Climb the Karakoram range's 8000-meter easiest peak.
the Baltoro and Karakoram Mountains' breathtakingly wild and inaccessible scenery.
On the trip to Skardu, there were breathtaking vistas of Nanga Parbat and K2.
Investigate Pakistan's Historic Himalayan Kingdom of Baltistan.
Attractions
Similar to Cho Oyu, it is an impressive but reachable peak, according to climbers. To get to its B.C., one must gradually ascend the Baltoro Glacier, which is considered to be the best trek in the world. For those new to mountaineering in the Himalayas, its ascent offers the ideal, not too challenging, mountaineering experience.
The 13th highest mountain in the world, Gasherbrum II is a member of the superior Gasherbrum group of five blooms, two of which soar above 8000 metres. She is often regarded as one of the easiest and most approachable of the 14 mountains, and climbers who follow her regular route can experience reasonable summit rates even in severe weather provided they are well-equipped and prepared. She naturally repels scores of climbers each year because she is an 8000er.
After navigating the dangerously crevassed Gasherbrum Glacier, you will reach the most challenging glacial plateau, where the South West Ridge's snow presents significant challenges on ice and snow mixed-facing ridges.
As we proceed climbing along a series of ridges, we come to a forum where camp two is typically set up at a height of about 6400 metres. It is a steep ascent in some places. In 2004, after a brief weather window came up towards the end of the climbing season, some 38 climbers of various nationalities reached her summit.
Instructions
If you wish to climb G2, you'll need to have exceptional stamina, a tremendous drive, and the capacity to deal with "expedition downtime," which includes boredom, indifference, lethargy, and chilly, alone nights on the glacier.
Best way to go
Usually, expeditions that travel here give themselves up to 55 days to climb that peak starting from the time they arrive in Islamabad, the Pakistani capital.
It takes ten hours in a jeep to get there from Skardu, passing through one of Baltistan's most beautiful and alluring valley paths. From "beautiful" to "suicidal," different people have used varied adjectives to characterise the access drive. It would be best if Allah prevented you from experiencing either a lot of rain or strong, dry winds, both of which would cause tonnes of rock to frequently fall onto the track.