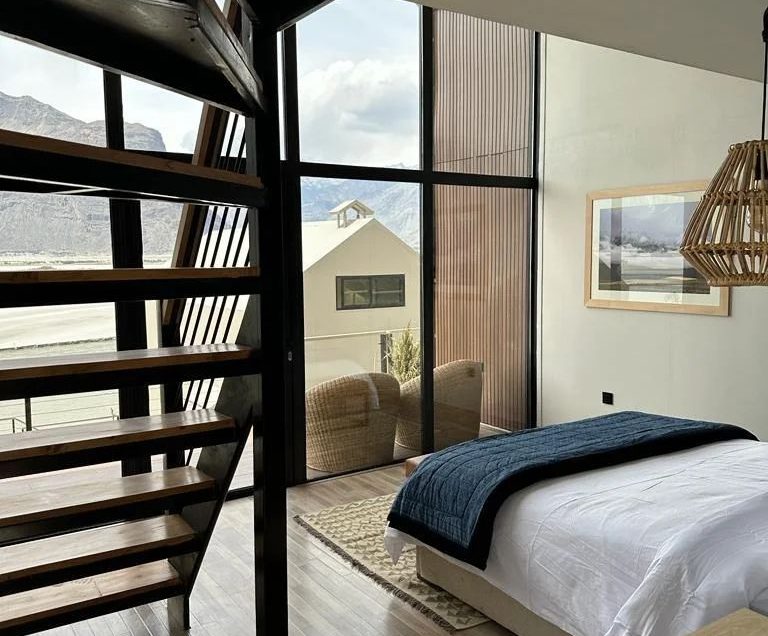 Finding the Best Hotels in Skardu
In the heart of this picturesque wonderland, travelers find themselves surrounded by the awe-inspiring Karakoram and Himalayan ranges, where the air is crisp, and the scenery is nothing short of magical. Skardu has become a must-visit destination for those who crave the extraordinary. But, to complete the experience, you need a haven of comfort and luxury to return to after a day of exploration.
This article's mission is to be your guide in discovering the very best Skardu Hotels. We will embark on a journey to explore the opulent, the cultural, the eco-friendly, and the exclusive. From Shangrila Skardu, a paradise nestled in nature's embrace, to Serena Hotel, a heritage marvel, and the luxurious Himalaya Hotel, our exploration will leave no stone unturned.
So, fasten your seatbelts, as we embark on a virtual expedition to unveil the finest hotels in Skardu, ensuring that your stay in this captivating region is as remarkable as the landscape itself.
Shangrila Resort Skardu
Located in the heart of Skardu, Shangrila Resort is among Best Hotels in Skardu and stands as an epitome of luxury and natural beauty. It's often referred to as a "Paradise on Earth," and rightly so. Skardu Shangrila Resort has earned its reputation as one of the most splendid destinations in Skardu, and for good reason.
Unique Features and Attractions
Shangrila Skardu boasts a unique combination of natural wonders and modern comforts. The resort is known for its breathtakingly beautiful location on the banks of Shangrila Lake, a pristine gem surrounded by lush gardens and the towering Karakoram Mountains. Its serene ambiance and the sight of the lake with the reflection of the peaks make it a dreamlike setting for visitors.
One of the Shangrila Skardu Resort most remarkable features is the Shangrila Lake, which is also known as Lower Kachura Lake. With crystal-clear waters, the lake is ideal for boating and enjoying leisurely walks along its shores. Visitors can also witness the famous Skardu Shangrila Resort's "Shangrila Lake Restaurant" which floats on the lake, adding a unique touch to dining experiences.
Activities and Experiences
A stay at Skardu Shangrila Resort offers an array of activities and experiences. From boat rides on Shangrila Lake to exploring the beautiful Shangrila Resort Skardu Gardens, there's no shortage of relaxation and recreation. Nature enthusiasts can embark on hiking and trekking expeditions into the Karakoram ranges, and for those seeking tranquility, the Shangrila Skardu library provides a peaceful haven.
Shangrila Resort is not only about the outdoors. The resort's indoor amenities are equally inviting. The in-house dining options, like the Marco Polo restaurant, serve a delectable variety of cuisines. And if you're a history buff, don't miss the ancient Khaplu Fort, which is just a short drive away.
Shangrila Resort Skardu is among Best Hotels in Skardu where luxury meets nature, and where every moment is a glimpse of paradise, making it a must-visit destination in Skardu for travelers who appreciate the finer things in life, surrounded by the natural wonders of Northern Pakistan.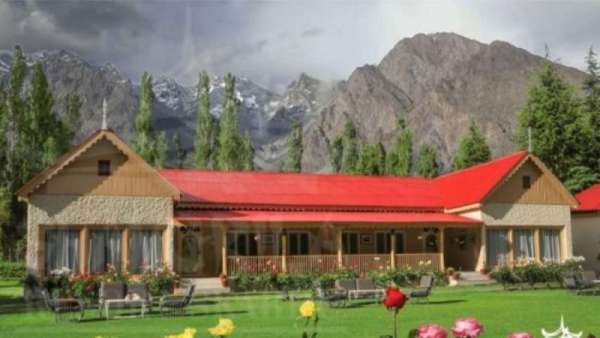 The Himalaya Hotel Skardu
Skardu Himalaya Hotel is also from the Best Hotels in Skardu and stands as a beacon of luxury, offering guests a chance to experience nature's embrace without compromising on comfort. This enchanting hotel is strategically positioned to provide guests with a picturesque view of Skardu's most mesmerizing features, making it an ideal choice for those seeking an extraordinary retreat.
Amenities and Services
The Himalaya Hotel is a true testament to luxury in the lap of nature. The hotel offers a range of amenities and services that cater to the needs of the most discerning travelers. From well-appointed rooms and suites with spectacular mountain views to personalized services that ensure your stay is as comfortable as it is unforgettable. Also Himalaya Hotel Skardu rates are very low as compared to other Luxury Hotels in Skardu. The Himalaya Hotel sets the bar high.
For those who seek relaxation, the hotel's wellness facilities, such as a spa and fitness center, are designed to rejuvenate your senses. Unwind after a day of exploration in the soothing ambiance of the hotel.
Nearby Skardu Attractions and Activities
The Himalaya Hotel's strategic location ensures that guests are never far from the natural wonders of Skardu. Surrounded by the majestic Karakoram Mountains and in proximity to the serene Shangrila Resort and Upper Kachura Lake, guests have easy access to breathtaking landscapes.
Hiking and trekking opportunities are abundant, allowing nature enthusiasts to explore the nearby trails and immerse themselves in the region's pristine beauty. The hotel also offers organized trips for those eager to explore Skardu historical sites and Skardu cultural attractions.
Broq Resort Skardu
Tucked away in the pristine wilderness of Skardu, Broq Resort is a testament to sustainable luxury. For those seeking a retreat that harmonizes with nature while providing modern comforts, this skardu resort is the perfect choice. Broq Resort takes pride in its commitment to eco-friendliness, setting the stage for an unforgettable experience that leaves minimal ecological footprints.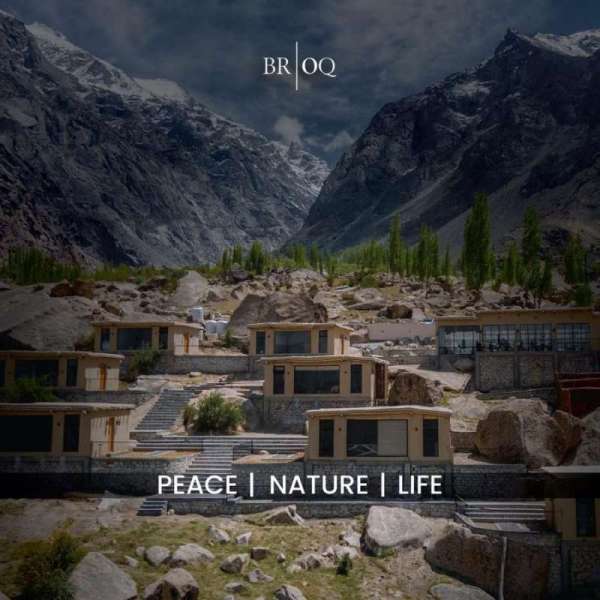 Accommodations and Sustainable Practices
Broq Resort boasts a range of accommodations that seamlessly blend comfort and eco-consciousness. From cozy cottages to spacious rooms, each space is designed to offer guests a comfortable haven without compromising the environment. Sustainable practices like energy-efficient lighting, water conservation, and waste reduction are at the core of Broq Resort's operations.
Innovative design elements are evident throughout the resort, such as the use of locally sourced and natural building materials, minimizing the impact on the surroundings. These practices not only contribute to a sustainable ecosystem but also provide a unique and harmonious experience for guests.
Unique Experiences and Natural Beauty
A stay at Broq Resort goes beyond traditional luxury; it's an opportunity to reconnect with nature. Guests can wake up to breathtaking views of the surrounding Karakoram Mountains, and the resort's location provides direct access to hiking trails and pristine landscapes.
The resort offers a range of unique experiences that embrace the local culture and natural beauty. Guests can participate in guided eco-tours, wildlife observation, and traditional artisan workshops.
Contact Us For Broq Resort Skardu booking.
Broq Resort (Best Hotels in Skardu) a sanctuary for those who appreciate eco-conscious luxury. It's a place where guests can immerse themselves in the natural beauty of Skardu while knowing that every comfort is provided with the environment in mind.
Mashabrum Hotel Skardu
Mashabrum Hotel (Best Hotels in Skardu) stands as a remarkable blend of culture and comfort, offering guests a unique opportunity to immerse themselves in the rich traditions of the region while enjoying top-notch hospitality. This culturally significant hotel adds a distinctive charm to your stay in Skardu.
Mashabrum Hotel cultural experiences
Mashabrum Hotel is more than just a place to stay; it's a living testament to the culture and heritage of Skardu. The accommodations are designed to provide a genuine sense of the region's history and culture while ensuring modern comfort.
Each room and suite at Mashabrum Hotel (Best Hotels in Skardu) is a piece of art, with traditional elements seamlessly woven into the contemporary design. Guests have the opportunity to experience the unique cultural aesthetic of Skardu without sacrificing the luxury they desire. The overall ambiance is a harmonious blend of comfort, culture, and authenticity.
Dining Experiences and Cultural Programs
The dining experiences at Mashabrum Hotel are a journey through the flavors of Skardu. The hotel's restaurant serves authentic local cuisine, allowing guests to savor the taste of the region. You'll find dishes prepared with fresh, locally sourced ingredients, providing a truly immersive culinary experience.
The Hotel is the one of the oldest hotels in Skardu and Mashabrum Hotel Skardu reviews are among the best.
Cultural programs are an integral part of your stay at Mashabrum Hotel. These programs include traditional music, dance performances, and storytelling sessions, where local artists share their heritage and tales of Skardu. It's an opportunity for guests to engage with the rich cultural tapestry of the region and create lasting memories. The Hotel is the one of the oldest hotels in SKardu and Mashabrum Hotel Skardu reviews are among the best.
Mashabrum Hotel is the perfect choice for travelers who seek an enriching cultural experience without compromising on comfort. It's a place where every moment is an exploration of Skardu's heritage and traditions.
Khoj Resort: Skardu luxury hotels
Khoj Resort stands as a haven of exclusivity and exceptional luxury. For those seeking an extraordinary retreat that goes beyond the ordinary, this resort is the perfect choice. Khoj Resort (Best Hotels in Skardu) is known for its distinctive features that promise an unforgettable and exclusive experience in Skardu.
Accommodations and Exclusive Activities
Khoj Resort offers accommodations that redefine luxury and exclusivity. From private cottages with panoramic mountain views to lavish suites, each space is designed to provide guests with the utmost comfort and privacy. The resort's attention to detail is evident in the elegant decor, upscale furnishings, and modern amenities.
What sets Khoj Resort apart is its exclusive activities and services. Guests can indulge in private bonfire evenings under the starry Skardu sky, ensuring moments of pure serenity and relaxation. Khoj Resort also offers personalized guided tours, giving guests the opportunity to explore hidden gems and untouched landscapes in Skardu.
Exclusive and Unforgettable Experiences
Khoj Resort (Best Hotels in Skardu) promises an array of unique and unforgettable experiences. The resort's location, surrounded by the Karakoram and Himalayan ranges, provides the perfect backdrop for outdoor adventures. From guided hiking and trekking expeditions to thrilling mountain biking, there's no shortage of adventure for those who seek it.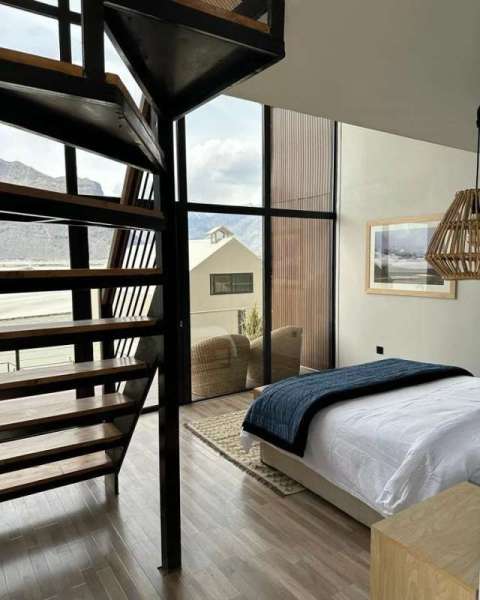 Skardu Khoj Resort is the epitome of exclusivity in Skardu, making it an ideal choice for travelers seeking an extraordinary and unmatched retreat. It's a place where guests can immerse themselves in luxury and create lasting memories in the captivating landscapes of Northern Pakistan.
Serena Shigar Fort
Serena Shigar Fort Hotel stands as an embodiment of heritage and elegance. This remarkable hotel holds profound cultural significance, offering guests a chance to immerse themselves in the rich history and traditions of the region. Shigar Serena Fort is not just a hotel; it's an experience that takes you back in time.
Shigar Fort Serena Cultural Themes, Design, and Accommodations
Serena Shigar Fort is among best skardu hotels and a living museum, an architectural marvel that transports visitors to a bygone era. The Shigar fort design are a tribute to the region's rich heritage, featuring intricate woodwork, handcrafted furnishings, and local art that reflects centuries-old traditions. The accommodations are a seamless blend of history and luxury, with each room and suite exuding timeless charm and modern comfort.
Walking through the corridors of Serena Shigar Fort Serena, you can't help but feel connected to the region's cultural legacy. The fort's architecture is a testament to the Balti heritage, showcasing the craftsmanship and artistry that have defined Skardu for generations.
Shigar Fort Serena Cultural Programs
Cultural programs at Serena Shigar Fort (best skardu hotels)are a highlight of any visit. Guests have the opportunity to enjoy traditional music and dance performances, providing a glimpse into the cultural traditions of Skardu. Storytelling sessions offer insights into the history, folklore, and way of life in this captivating region.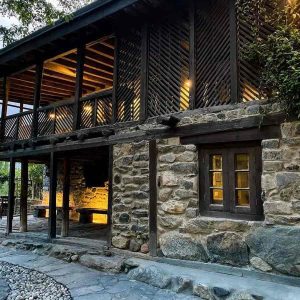 Serena Shigar Fort Hotel is a place where heritage and elegance coexist, creating an atmosphere of timeless beauty and cultural richness. It's a destination for travelers who appreciate history and the authenticity of a bygone era while enjoying modern comforts.
The Best Hotels in Skardu: Making Your Choice
Overview and Comparison
Choosing the best skardu hotels is no easy task, as the region boasts a plethora of outstanding options. To help you make an informed decision, we present an overview and comparison of best skardu hotels.
Skardu Shangrila Resort: Known as the "Paradise on Earth," Shangrila Resort is an idyllic blend of luxury and nature. It offers pristine views of Shangrila Lake, floating restaurants, and a range of activities.
The Himalaya Hotel: Nestled amidst nature, The Himalaya Hotel is a luxurious haven with breathtaking mountain views. Its exceptional amenities and warm hospitality make it a top choice.
Broq Resort: Eco-conscious travelers will find solace at Broq Resort, which harmonizes with nature through sustainable practices. This resort offers a unique eco-friendly experience in Skardu.
Mashabrum Hotel: Mashabrum Hotel is where culture meets comfort. Its cultural themes, local design, and dining experiences offer an authentic taste of Skardu's heritage.
Serena Shigar Fort: A heritage marvel, Serena Shigar Fort is a living testament to the region's rich history. Guests can immerse themselves in the Balti heritage and enjoy cultural programs.
Khoj Resort: For those seeking exclusivity, Khoj Resort is a retreat like no other. It offers a range of private activities and accommodations, ensuring an unforgettable experience.
Amenities, Locations, and Guest Reviews
Each of these hotels comes with its unique set of amenities and services. Shangrila Resort and The Himalaya Hotel are known for their opulent comforts, while Broq Resort and Mashabrum Hotel focus on eco-friendly and cultural experiences. Serena Shigar Fort presents a heritage-rich stay, and Khoj Resort offers an exclusive and luxurious escape.
Location plays a crucial role, with some hotels offering stunning mountain and lake views. Guest reviews can provide valuable insights into the overall guest experience, service quality, and the uniqueness of each hotel. These factors allows you to choose best skardu hotels,
Tips for Choosing Your Ideal Hotel in Skardu
Consider your preferences: Are you drawn to nature, luxury, culture, or exclusivity?
Evaluate the location and proximity to Skardu's attractions.
Read guest reviews to understand the experiences of previous visitors.
Check for special packages, offers, and seasonal discounts.
By weighing these factors and considering your personal preferences, you can make an informed choice and ensure your stay in Skardu is nothing short of extraordinary.
Our journey through Top Skardu Hotels, each with its distinct charm and offerings, showcases the luxury and culture this region has to offer for your Skardu Vacation. From Shangrila Resort's paradise on earth to Serena Shigar Fort's heritage marvel and Khoj Resort's exclusive retreat, you have a plethora of choices to make your stay truly exceptional.
We encourage you to embrace the beauty of Skardu and experience the opulence of its hotels. Whether you seek adventure, cultural immersion, or a tranquil escape, Skardu welcomes you with open arms. Let the breathtaking landscapes and exceptional accommodations create memories that last a lifetime. Skardu is a destination where nature's grandeur meets human elegance, and it's time for you to explore and be enchanted by its allure.