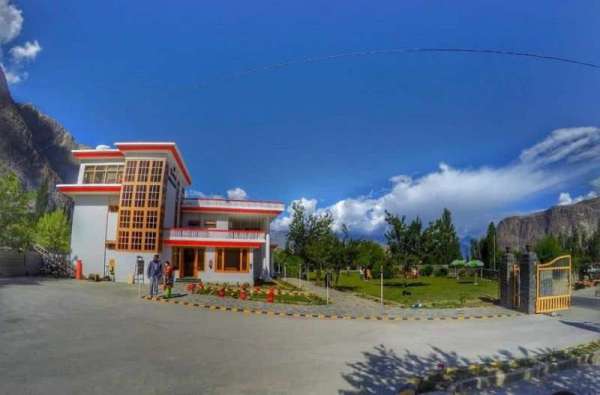 Himalaya Hotel Skardu
A striking building within the greenery-packed hills of Hussain Abad Skardu is none other than Hotel Himalaya. Excellent interior, amazing wooden flour rooms, ceiling décor, blossomed flowers in the garden and extremely delicious food are the landmarks of Hotel Himalayas. Equipped with all the facilities, the Rooms are tidy and clean. Security arrangements are satisfactory. Customer service is fantastic. The entire staff of the hotel is quite cooperative and friendly.
The owner, himself supervises the service delivery and enquires the visitors if they have any complaints or issues. Shuttle service from the airport is available, and so is the transport for tours. The front desk and reception services are active 24/7. From rooms' balconies and terraces, we can view the wonderful views of mountains and lush green landscapes. At Hotel Himalayas, everything related to modern tastes and tourist requirements is available. One who visited the hotel wishes to check in on the property again.
Skardu is the hallmark of beauty and amazing scenery in the North of Pakistan. In the Gilgit Baltistan region, the valley is home to splendid trees and forests of multiple fruits, freshwater lakes, the highest mountain ranges, awe-inspiring valleys, and historic sights. Its cultural and sports festivals are famous around the globe. Owing to the gigantic Eight Thousand Mountains, Skardu is called "Climbers' Paradise". Thus, tourists keep the visit to Skardu atop the list.
Important Tourist Attractions in Skardu 
Khaplu Valley
Shigar Valley
Burzil Pass
K2 Base Camp
Jahan e Nao Roz Festival
Lulusar Lake
Sheosar Lake
Polo Festival, Skardu
Checkout Our Visit Packages:
Weather of Skardu
From April to October, the temperature of Skardu remains between 8 to 27 degrees seniti grade. The atmosphere is usually pleasant. But, October to February are harsh winter months, due to -10 degree seniti grade temperature. We recommend tourists visit the Skardu from April to October.
Location of Hotel Himalayas
The hotel is Hussain Abad Skardu, 16100. Skardu International Airport is 10 minutes' drive from Hotel Himalayas. Pick-and-drop service from the airport is available.
Nearby Valuable Places
Skardu Fort = 7.4 km
Italian K2 Museum = 5.7 km
Cold Desert = 12 km
Kachura Lake = 35.7 km
Deosai National Park = 34.8 km
Amenities at Hotel Himalayas
They provide excellent services to the visitors of this place. The stay becomes worth remembering for the visitors. The services and amenities include:
Free, safe parking
Airport shuttle service
Wi-Fi across the hotel
Restaurant
Bicycles on rent/ Car Rental Service
Outside Garden
Laundry Services
Heating arrangement
Lifts are not available
Wheelchair accessible
Tennis Court
Family-friendly environment
They provide sincere tourism guidance at Front Desk
Breathtaking views of the Karakorum and the Himalayas from the hotel
Room Amenities at the Hotel
Himalayas hotel contains 16 rooms. All the rooms are extremely beautiful. Wooden floors, amazing ceiling décor, and wall palings are the distinctions of these rooms. The furniture is stylish. The beds are outstanding. One feels even better than his home. Installations according to hot or cold weather.  Room occupants enjoy the services and hospitality of the staff as well.
Heated rooms in winter
Fire Place
LED Televisions with cabal network
Free internet service
Breakfast in rooms
Room Service
Beautiful hills viewed from the rooms
Coffee / Tea Maker
Telephone with free local calls
Room Types
Executive Triple Room: It comprises 1 King Bed. 4 persons can sleep in this room.
Deluxe Double Room: There is 1 double bed in this room. A maximum of 2 People can stay in this room.
Single Room, Garden View: It contains 1 large twin bed. 1 person can sleep in this room. We can view an outside garden from its balcony.
Standard Twin Room, Mountain View: This room has 2 twin beds. It can adjust 2 persons. We can view the striking mountains of Karakorum and the Himalayas from this room.
Deluxe Single Room: 2 twin beds in this room. 2 persons can stay in it.
Parking Facility
Free self-parking
Free valet parking
Wheelchair-accessible parking
Facilities for Business community
Visitors from the business arena can enjoy the scenic views and perform their business tasks. Essential equipment and a business-friendly atmosphere are provided at Hotel Himalayas.
24 hours Business Center having Internet
Conference Center
Meeting Room
Banquet Facility
Kids' Facilities
Babysitting
Activities for Kids' entertainment
Children friendly
No age restriction for children
Rollaway/extra beds available for PKR 1,000 per night
Food and Drink
A restaurant in the Hotel
A café / Coffee shop
Bar / Lounge for drinks
Babe Que grills/ Outside dinner
Free breakfast
Food delivery to the rooms (limited hours)
They welcomed guests with fruit baskets in the rooms
Entertainment and Outside activities
Cycling
Picnic area
Outside the garden with blooming roses and apples
Tennis Court
Enchanting sunrise view
Pets
Pets are allowed
Pets / Dog-friendly environment
Arrival and Departure
Check-in starts at 8:00 AM.
Check-out is till 11:00 AM.
Welcome by staff at Front Desk on arrival
Contact 24 hours before arrival is required.
Photo Identification and CNIC are required during Check-In.
Special requests' fulfillment is subject to availability.
Payment Options
Master and Visa cards: they accept debit or credit at Hotel Himalayas.
Contact Details
For Booking and other queries please contact at +92(336)6675558