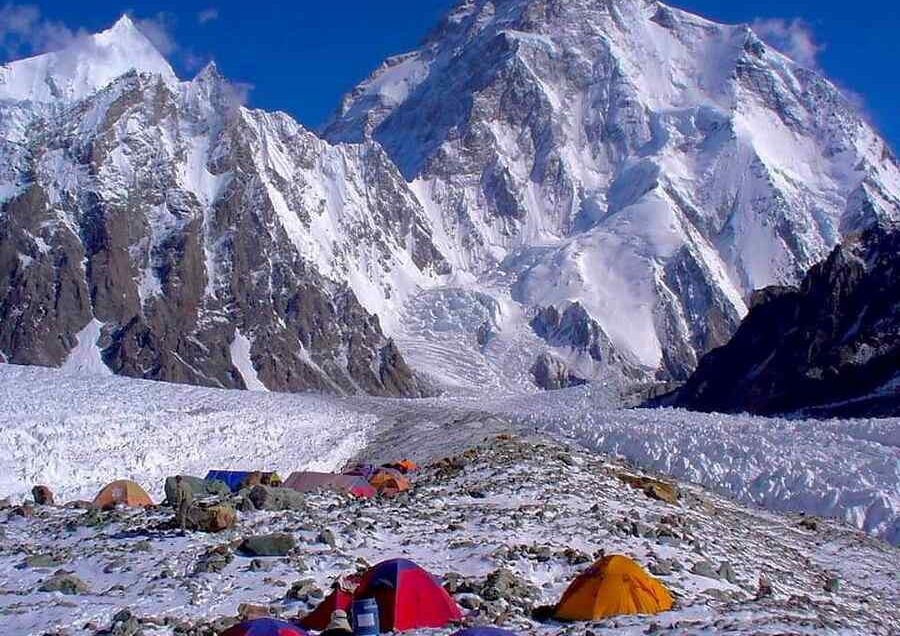 K2 Basecamp trek leads towards 2nd highest mountain in the World K2, the Goodwin Austin. It is located at 8,611 meters altitude. Amid the trek to base Camp, one enjoys the serenity, beauty, cultural heritage, and wonderful mountain villages of the Northern areas. The trek includes bus, air travel, foot hikes, bumpy jeep rides, and walking through glaciers' waters. Adventure lovers must not miss this opportunity. The trekkers witness the calm and beauty of the Karakoram Range. Promising Bal Toro,
Islamabad to Skardu
It takes 45 minutes from Islamabad to Skardu by air. The flight view is spectacular all the way. Rest and sightseeing at Skardu are joyful experiences.
Skardu to Askole
The next day, after 7 hours of bumpy jeep rides, the tourists reach Askole. It is a beautiful village. The last settlement before entering the wilderness of Karakoram. Askole is located at 3,040 meters altitude. Stay at Askole is a teaser for the next few days. Sleeping in a tent is a rough and tough environment. For one who passes this test, the Base Camp trek will be easier for him. The trekkers should adopt the habit of early sleeping; because they awaken up early in the morning for trekking.
During Askole's journey, a point is Shigar. Cold Desert, Blind Lake, Shigar Fort, Shopi Garden, Sirena, Old Mosque, and Shigar viewpoint are worth visiting points. The tourists must have a halt there.
Askole to Jhola camp
The next day, the luggage is weighed. Porters are ready to go. The distance towards Jhola is covered in 2 hour hike. At Jhola campsite, the scenes of Bakhor Das peak 5,809 meters are awesome.
Jhola to Paiju
It is a 24 kilometers trek. Covered in 6 to 7 hours hike. Almost one day of rest is taken at Paiju. Lunch and snacks are available here. Trekkers can cook as well.
Paiju to Urdkas
The next day, the trek toward Urdkas started. The 21 kilometers trek takes 7 to 8 hours trekking. The fabulous Bal Toro glacier 63 kilometers is passed by the trekkers. Sufficient water must be with the trekkers. The promising Trango Towers 6,286 meters are visible during the trek. It is a heart-throbbing view. After passing through the cold water of glaciers, the trekkers reach Khubretuso. 3 hour's hikes is still needed to reach Urdkas from this point.
The whole trek is on one side and the deadly hike of Urdkas is on the other side. It is the most difficult stage for trekkers.
Urdkas to Goro II
This 12 kilometers trek is covered in a 6 to 7 hours hike. After a lunch break at Goro I, the trek remains more than 2 hours. For local people, it is just 45 minute's hike from Goro. The weather is generally pleasant here. Moreover,  Urdkas to Goro II trek is relatively easier than Paiju to Urdkas trek. Campsite is awesome at Goro II. It is exactly on the glacier with a spectacular view.
Goro II to Concordia
It is the most awaited trek for K2 Base Camp aspirants. This 15 Kilometers trek is covered in 7 to 8 hours. Here, the dream of hikers comes true. Trekking amidst white snowcapped peaks is indescribable in words. Gasherbrum and Mitre Peak views are enjoyed during trekking. Trek is just amazing. One of the best treks. Waterproof shoes, mountain sticks, and premier trousers are needed for this trek. Sufficient water and sunglasses too are required. Sunglasses help protect from sunlight reflection coming from snow. From Concordia, the scenes of K2 are mind-blowing.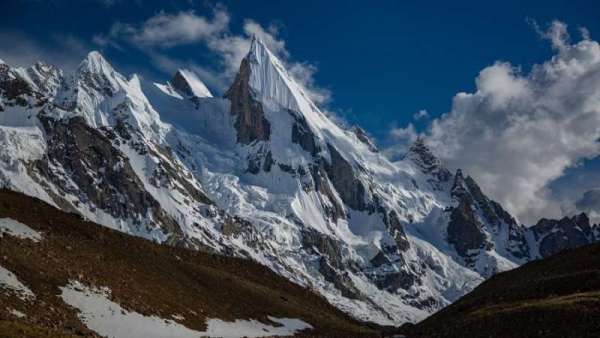 Concordia to K2 Base Camp
Snow is abundant here. Clouds fully cover the skies. K2/ Choggori 8,611 meters and Broad Peak 8,047 meters are visible from Concordia. The trekkers only move towards K2 Base Camp when weather permits.
Trekkers will have the opportunity to hike up the Godwin-Austen glacier to the Art Gilkey Memorial (an American geologist and climber), which is located immediately before K2 Base Camp. This has been a long but amazing day. The mountain appears to expand in size as they follow the glacier towards K2. Broad Peak appears to our right, and they pass Broad Peak base camp after about 3 hours (there is a chance to turn back here). The trekkers normally stop here for lunch, and those who continue on continue with K2 looming above them as they draw closer and closer.
The Art Gilkey Memorial is located just before base camp, among the rock and ice strewn landscape. A brief scramble gets us to the memorial for those whose lives K2 claimed. Plaques and etched tin plates are affixed to a small rocky outcrop at the base of this massive mountain. There are excellent views of K2 just above, and may see some climbing excursions.