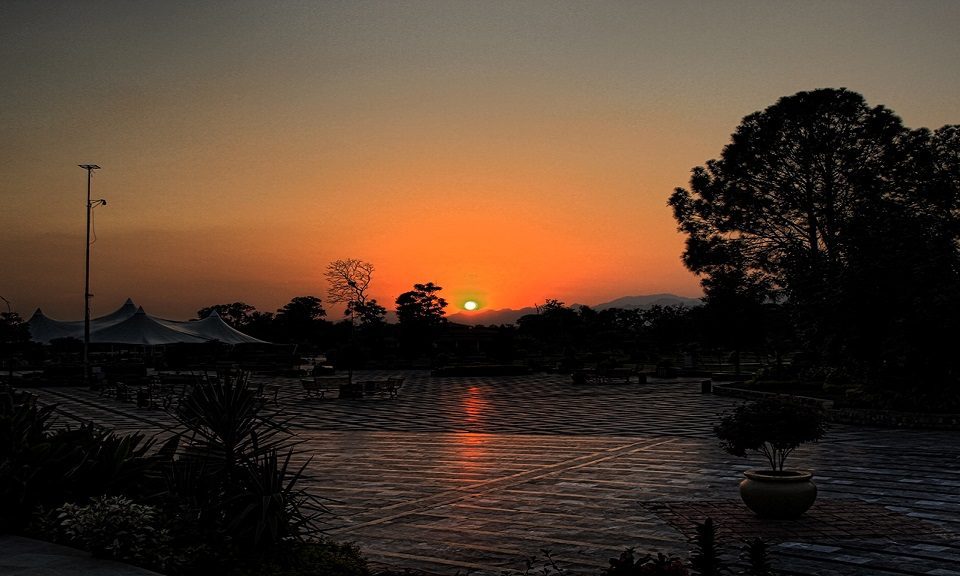 This park is situated on the bank of the Rawal dam, which was built as an artificial water reservoir in 1962, to meet the requirement of drinking water for the twin cities. This was a marvelous project in the era of Ayub khan. The park is also known as Rawal Lake due to the tale of the Rawal Dam. The main source of this dam is the Korang river.
Korang River, along with some other small streams coming from Margalla Hills, have been set to form this artificial lake which covers an area of 8.8 km². Rawal Lake is situated within an isolated section of the Village Malpur, Bani Gala, and Margalla Hills National Park and is easily accessible via the Srinagar Highway (formerly known as Kashmir Highway).
Here are some of the other nearby locations:
Kashmir Chowk: 4 KM
Islamabad Serena Hotel: 4.7 KM
Abbpara Chowk: 5.7 KM
Zero Point: 6.8 KM
Jinnah Convention Center: 4 KM
Timings of the Park
Lake View Park opens at 10:00 AM and closes 12 hours later at 10:00 PM. Being one of the biggest parks in the capital, it is open throughout the week.
You can also check:
Activities in Park
In the park, a person can enjoy a lot of activities. That's why this is the best place for tourists to enjoy the serenity and nature in the capital. The park almost remained crowded with the school and family trips who are coming from all over Pakistan, particularly KPK, Jhelum, Attock, Chakwal, and the motorway adjacent areas.
This park is an amusement place of international standards offering services like a picnic area including dedicated Bar B Q spots with grills, adventure sports like wall climbing, quad bikes in F1 Tracks, boating, fishing, fancy bird aviary, train rides, restaurants, and much more. There is a zoo for rare species of birds, which is a major attraction of the area. A restaurant named 'Dera' offers food and refreshment to visitors too. In short, a highly recommended picnic spot. You can get an excellent sunset view from this park.
Needless to say, weekends and school vacations are the busiest times to visit Lake View Park in Islamabad. A large festival arena is also available on the site. Throughout the year, it serves as a venue for cultural and musical events in the federal capital.
This park has amusement for people of every age. They can get something of their interest according to age. In the park, there are swings, slides, different paid electronic rides, and Pakistan's biggest aviary, for kids. It is also a wonderful place for kids to play in the green playland area, go boating (sometimes not available in the rainy season) take horse rides and participate in a variety of other activities available at one of Islamabad's top picnic spots.
For young tourists, there is F1 Track, a 5D Motion ride, a mini golf club, a paintball arena, fishing, and boating. Families and friends can spend their day here. Lush green lawns give ample space for sitting and enjoying the sunset in the capital.
Main Features of Lake View Park 
The main features of this park are:
Sun Set Terrace
Lush green gardens with beautiful landscape
Golf carts and passenger road train
Fishing and Boating and swimming pool facility
Pakistan's largest aviary
Mini Golf facility at Battlefield Islamabad
Rock climbing at Ibex Club
5D Motion Ride at F1 TRAXX
Paintball arena at Battlefield Islamabad
ATV riding
Jumping castle
Swings
Refreshments centers and snack bars
Paid Services in the park
Given below are the prices for different facilities available at Lake View Park:
Car Parking 50
Per Person Entry Fee 20
3D Motion Ride 250
Discovery 250
Bumper Car 150
Horse Ride 300-500
Bird Park ticket for Adults 100
Bird Park tickets for Children 50
Prices of the facilities according to the year 2022.
Refreshments at the Lake View Park
As tourists came here from all over Pakistan, this park has a variety of refreshment centers scattered in the park. This thing allows the tourists to enjoy the different street foods and delicious traditional cuisines.
The famous food point is "Dera". It is famous among available food points due to its delectable food which lures tourists. Engineers spicy and Rajpoot Brothers are also good names for food. Furthermore, there are many street foods are available on small stalls to accommodate your refreshment needs. About 25 firewood BBQ hearths with sinks are also located on the right side of Lake View Park in a well-designed BBQ area.
The most Beautiful Capital
Islamabad, the capital of Pakistan, was ranked one of the most beautiful capitals in the world in 2015. Islamabad has political offices like the senate and parliament of Pakistan. In this city, you can find many beautiful places to spend your leisure time. It is located before Margalla hills, which are the foothills of the Karakoram range. The best-planned city of the Pakistan with least populated, least polluted, and green city. Islamabad offers equal opportunity to every age human to spend memorable holidays.