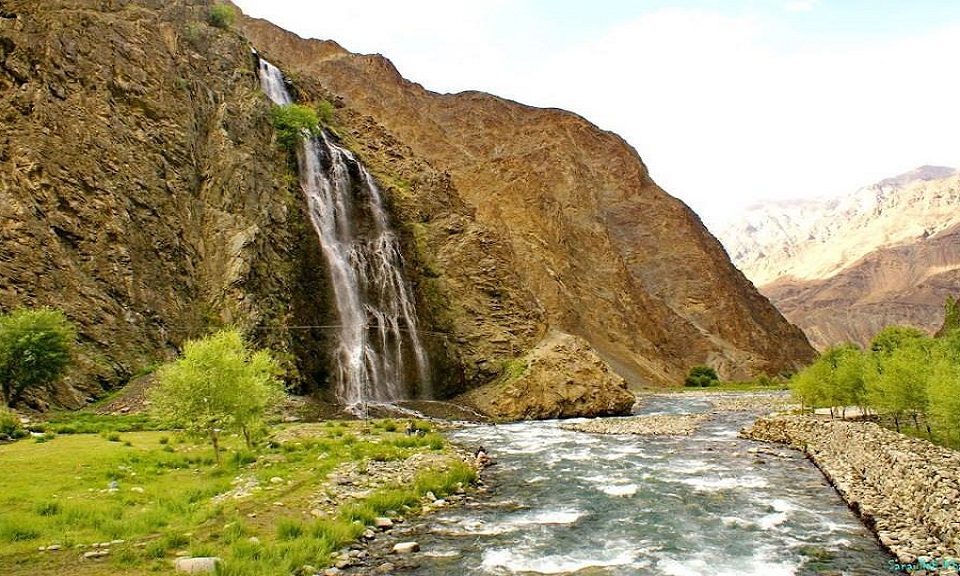 Manthoka Waterfall is roughly 40 kilometers from Skardu city. To get to this waterfall, take a side road off the Skardu-Kargil route. Madhupur hamlet in Kharmang District is situated on the east side of this creek. A waterfall might be a wonderful spot to unwind and enjoy the weekend.
The waters streaming down relieves tension and stress, allowing you to enjoy your weekend. Manthoka Waterfall is an excellent place for your upcoming vacation. It is an ideal tourist destination, with freshwater flowing and a variety of leisure activities available. The route itself has some great vistas; you may be exhausted after the travel, but this beautiful location will revive you. The melody of a waterfall and the creek itself provides a sense of calm.
You can also check:
Manthoka Waterfall has a mystical aspect. The waterfall is encircled by lush green fields, massive Rocky Mountains, and crystal-clear streams. Manthoka waterfall, located in Manthoka hamlet, Kharmang Valley close to Madhupur, Skardu, is a jewel in Pakistan's gorgeous and diversified scenery.
Manthoka waterfall Location
Manthokha Waterfall is a waterfall in Kharmang Valley, Gilgit-Baltistan, Skardu, Pakistan's far northernmost area. This waterfall is approximately 180 feet high and is located approximately 80 kilometers from downtown Skardu.
Recreational Activities
The waterfall is a magical place with beautiful green pastures, fresh bubbling streams, Karakorum's high Rocky Mountains, and indigenously created eateries, among other things. Apart from the waterfall, the major attraction of the cafe is the fish farm, where trout fish are kept for visitors. If you intend to visit the lovely waterfall. The village of Manthoka serves as the starting point for paths to subdivision Kharmang. This waterfall is supplied by Manthoka Nala and is located at the confluence of the River Indus.
Apart from the breathtaking waterfall, there is also a trout fish farm, which is an intriguing feature that makes it the finest site to visit for visitors and travelers there are also a few modest shops and a restaurant selling freshwater trout. It is a stunning waterfall with lush vegetation all around it. The Karakoram Mountains tower over the waterfall, adding to the already spectacular view. Manthoka Waterfall is well-known for its trout.
The fish are swimming near the waterfall. Not only that, but trout farms are a popular tourist destination. You can either observe the fish or purchase them for a fair fee. Locals capture them for tourists and then prepare them to live. Tourists like eating while sitting beside the Indus River or the Manthoka Waterfall.
The seats are kept in cold water, and fresh food is given at the tables. There's a canteen where one can get various food items. If you go exploring, you can witness a variety of cattle and wild creatures. You can hold diving competitions if you are an adventurous or competitive person. There are hotels where you may find the best local and traditional foods.
You can also check:
Travelers have a fantastic opportunity to go sightseeing. Manthoka Waterfall is all about the breathtaking scenery in its environs. It's adorable because of the brilliant flowers that blossom in the spring and the surrounding high mountains.
Even when frozen, the Manthoka Waterfall provides a stunning picture. During the summer, though, a rainbow may appear.
Manthoka Waterfall is a wonderful destination to see with family and friends. It is a location with a variety of nearby localities where amazing memories can be made. Furthermore, the surroundings and Manthoka Island alone are highly appealing. A nice photoshoot may be had here.
Check out our comfortable and large treehouses. Dreamy night in our treehouses is surrounded by gorgeous mountains and an incredible sight of the Manthoha waterfall.
Its walnut wood construction provides our homes with an especially cozy feel. The rooms are bright and spacious, with plenty of natural daylight and modern conveniences.
Best Access to Mantoka Waterfall
The waterfall is roughly 5 kilometers up the road from the main Manthoka village on the route to Manthoka Nala. The waterfall is accessible through Skardu-Kargil Road from Skardu Bazaar in Skardu. The road passes through villages such as Hussainabad, Thorgo, ghasing, Parkutta, and Manthoka. Madhupur is to the east of a creek that flows into the Indus River at Manthoka hamlet. The Manthoka-Madhupur route takes you to the Manthoka waterfall, which is 6 kilometers away.
Islamabad Airport is an excellent starting point for any international visitor wishing to visit the area. You can then take a city bus or rent a private automobile to Skardu. There are several 5-star hotels along the route and near the waterfall, so finding a place to stay ought to not be a problem.